Eromosele Ebhomele & Simon Ateba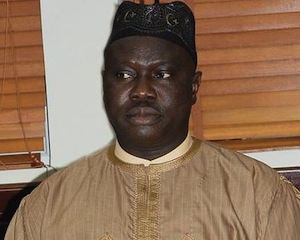 Speaker Adeyemi Ikuforiji of the Lagos State House of Assembly on Sunday said he would introduce the bicycle as a means of transportation in the State if made the governor by the people of the State in 2015.
He also said he would renovate the hospitals in the State to fit the standard of the State just within his first 18 months in office.
Ikuforiji, who spoke at the Lagos Television Station, Ikeja venue of the event, told the crowd that attended the event that he had served his party, the All Progressives Congress, APC, risking many odds to keep it strong in the State and country.
Among his 10-point agenda for the State, the Speaker said: "transportation, will be approached holistically. We will embark on massive rebuilding and expansion of roads, completion of light rail networks and expand water transportation in Lagos.
"We will declare a state of emergency in the area of roads after we must have convened a 'road summit' in order to achieve a roadmap to the road infrastructure in Lagos. We shall enact a roads standard for our roads, all rural roads in Lagos will be graded while we will build more roads to create shorter distances and connect communities.
"We will hold ourselves to the highest standards of regular road maintenance; in fact, this will be incorporated into road construction contracts for Lagos. We will introduce the tram system in order to ease transportation within Lagos; bicycle paths will be created to encourage people to ride bicycles instead of driving every time.
"Overhead bridges will be built where necessary all over Lagos, to reduce the incidents of motorist-pedestrian accidents.
"My government will develop the necessary software infrastructure to train supervising personnel; introduce and maintain a 200km light rail network that will connect the farthest places in Lagos. We will dredge the waterways in Lagos in order to allow for the introduction of the 'lite boat' transport system,
"I will ensure that even to the most politically aloof Lagos resident, politics will be attractive and no longer perceived as a dirty game characterized by nepotism. I am an individual awakened to the desire to make Lagos a destination city; our state must take its pride of place among megacities; I am called to make that happen.
"I will consolidate the work started by the first civilian Governor of Lagos, Alhaji Lateef Jakande, our Governor Emeritus, Asiwaju Tinubu and the present Governor, Tunde Fashola," he said.
Continuing, Ikuforiji told the crowd: "my government will combine the populist approach of Jakande, the financial ingenuity of Asiwaju Tinubu and the vigour of Tunde Fashola for Lagos. Within the first 18 months of my government, our hospitals in Lagos will be upgraded to world class standard.
"In that time, Lagos government officials including myself will be mandated to undergo medical check-up here instead of abroad.
"Our schools in Lagos will be restored to their former glory and I will not rest until LASU is one of the top 500 universities in the world. I am in this race to make a difference; my conscience tells me this is the best time to do the will of God for Lagos.
"I am well placed to lead this new phase in the history of Lagos. I have the training, the required experience- the vision, the leadership qualities as shown in the last nine years."
In the area of Job creation and poverty alleviation, he said full and gainful employment would be approached as an indispensable tool of ensuring good life for the unemployed.
"To this end, we will establish a Youth Enterprise Initiative with the aim of expanding the skill base of young people in Lagos. We will create an unemployment register for Lagos that will allow for proper planning and mobilisation of resources and opportunities for the unemployed.
"We will create a women-focused and gender-sensitive Lagos government that will end the perennial neglect of women and turn women issues into top priority. We will establish an all-year Lagos wide youth training programme, as a form of social engineering, to rehabilitate and re-integrate area boys into the society.
"We will emphasise a knowledge-based economy and entrepreneurship, and consolidate and expand the IGR and the resource-base of Lagos.
"We will encourage and promote Lagos industries to stimulate growth, drive innovation and create employment through the creation of funding and mentoring schemes. We will adopt the right policy and political framework; work with and provide tax incentives for local and global companies that will generate employment for Lagos
"We will create a Ministry of Diaspora Relations to work with people of Lagos in the Diaspora to find ways of using their skills to encourage investment in the state. We will provide substantial funding for entrepreneurial education and skill acquisition by young people in Lagos," the Speaker said adding that the State would invest massively in agriculture through public and private partnerships and joint ventures with neighbouring states during his time.
He further said his government would undertake the identification, through precise and up-to-date data, of the energy needs of Lagos and design measures and work to meet these needs as well as ensure increased production of 99 megawatts Independent Power Projects to utilize Lagos's vast hydropower potential, given that around 40 percent of the state is made up of water.
Concerning security which he said would be one of his priorities, he said his government would ensure that security outfits are fully equipped to combat crime.
"We will implement a zero-tolerance approach on crime in Lagos," he promised, adding: "we will encourage community participation in crime prevention and strengthen existing programmes within Lagos."
He also said his government would provide adequate housing scheme and introduce a Social Housing Concept to address the perennial housing challenge in the State just as he emphasised that his government would establish a Lagos Housing Fund to re-invigorate mass housing; regenerate slums throughout the state through a humane.
"Under my governorship, good education will be the bedrock of the building of a prosperous and democratic Lagos. We will improve the quality of education in Lagos for both state-funded and privately-owned schools, we will establish research and development centres, which will be adequately and efficiently funded in Lagos.
"We will incorporate technical skills acquisition into secondary school curriculum in Lagos and increase the budgetary allocation for education backed by legislation, we will bring the feeding of school children programme; and encourage free education in Lagos State with the introduction of bursary and scholarship schemes," he said among others.

Load more