Abiodun Onafuye/Abeokuta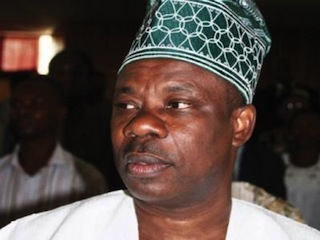 The ruling party in Ogun state, All Progressive Congress, APC has been accused of importing poverty and hardship to the state with its current infrastructural development, which was described as a white elephant projects.
The accusation was made by a Peoples Democratic Party chieftain in the State, Hon. Abiodun Oni during the PDP unification rally in Abeokuta during the week.
Oni, who is contesting for a seat in the Federal House of Representatives to represent Abeokuta North/Obafemi-Owode local government Federal Constituency disclosed that the people of the state are facing much difficulty in
the hands of the Ibikunle Amosun led government.
He posited that the ongoing infrastructural development projects being put in place across state by the present administration has added more injury to the system of governance in the state.
He agreed that any states undergoing such massive infrastructural development are expected, no doubt, to experience some difficulties, but opined that it should not be 100 per cent and at the detriment of the citizens of the state. He submitted that the Governor Ibikunle Amosun does not have the interest of the people that voted him into power.
The PDP chieftain also accused the governor of renovating his own personal residence in Abeokuta, arguing that, he did not do it while he was a federal lawmaker as a Senator for four years.
"The major aspect of it is that the present administration has not reached out to the grassroots, rural dwellers and if the present governor is saying there is no money, there is no money, but he is constructing underground abode. He served as a Senator for four years, then, he did not remember to build such expensive mansion, while the people in the various towns and villages are suffering and wallowing in abject poverty.
"Before he became the governor, we knew him, immediately he became governor, the first tarred and expansion road constructed was his father's areas in Ita Eko/Totoro, Ibara and Ita Iyalode in Abeokuta," Oni stated.
While speaking on his ambition, Abiodun Oni declared that his main purpose of vying for the seat is to represent his people and initiate bills that would have direct impact majorly on the grass rooters and rural dwellers in his constituency.
He further disclosed that his focus would be much on the people at the grassroots level, which according to him, there's need for more government attention at the lower tier.
He added that Federal Constituency allowance given to the lawmakers is not meant for their personal use, but to better the lives of members of their various constituency.
Oni maintained that no government would succeed, either at the state or federal levels, if the people at the grassroot level are neglected and not carried along in the scheme of things.
He alleged that the programmes and policies in Ogun state now, has not been favourable to the people of the state, calling on them to vote out Amosun and APC in 2015.

Load more