Abiodun Onafuye/Abeokuta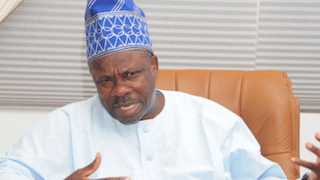 Governor Ibikunle Amosun has lashed out at his predecessor, Otunba Gbenga Daniel, describing him as a confused person and a pathological liar.
Amosun, though, echoing that he is not yet ready to reply some of his critics, especially the former governor and his loyalists, who have not seen anything good in his administration in the last three and half years, stated that the people are happy with his government achievements.
It would be recalled that Daniel had on Tuesday last week during his official defection back to Peoples Democratic Party (PDP) with his loyalists from Labour Party, LP in Abeokuta accused Amosun of inflicting pains on the people of Ogun State with his double taxation,which the former governor maintained has been the source of increase in the State Internaly Generated Revenue,IGR,
Daniel also accused the present administration of incurring about N200 billion debt in less than four years, claiming that in his eight years as governor of the state, the total debt left behind was just a meagre N37 billion.
But governor Amosun, while addressing the people of Abeokuta North local government during the last of his assessment tour of all the 20 local government in the state last Thursday at the Late Oba Odeleye Park, Sokori, Abeokuta mnaintained that, when it is the time for campaign, he will respond to all accusations and allegations by his critics.
"This is not campaign, when campaign starts, we will tell them what they want to hear. It is not yet time for that now, at the appropriate time, we will reply them," Amosun was quoted to have said at the tour.
But while speaking with journalists after the commissioning of the First Gate Estate in the state, Orange Valley Estate constructed by Ogun State Property Investment Corporation, OPIC, Amosun declared that his predecessor and his followers were confused people, who do not know what to say again after witnessing great achievements of his administration in less than four years.
"I dont have time for them now, they are confused people. They marvel at our achievements in less than four years. When we started demolition, they said we are demolishing people's house and nothing will be done afterwards but we started the road expansion and they were surprised with everything. When we started the model schools, they said it is a lie, the schools are now ready, they are shellshocked.
"When we started this estate, they said we can't do it, today we have just commissioned 66 units and others are ongoing. We are having similar estates across the state. We are building another at New Makun in Sagamu, another in Agbara along Kobape road here and also at Alamala area. By the time all these are completed, the issue of housing would have been solved because we are building it for all categories.
"All of us are entitled to good houses and this government is not sleeping over that, we will continue to ensure that the dream of the founders of OPIC to see that affordable houses is available to everyone is met, be you indigene or non indigene.
"All these is giving our critics sleepless night, they never thought of seeing this state at this level. They thought we are like them. Remember that if you are in front of someone that does not like you, even if he stands on the tallest building, he will still be saying that he did not see anything. Let"s just leave them and continue with our mission to rebuild the state," Amosun stated.
Commenting on the accusation of debt to the tune of N200 billion, Amosun posited that all the total debt the state is owing as he is speaking is not up to N25billion, adding that, those talking are just blabbing and dont know what they are saying.
"I am an accountant and I know that no bank in this country can borrow any state up to that, so where did they get such figures from. We are using just two banks and we owe one about N13 to N15 billion, so if we owe the other like say, N10billion, where has that amounted to N200billion.
"And to let you know, we didn't borrow a dime to construct this estate. It is all these that are confusing them. We will not listen to them, they are pathological liars and a confused people, it is the proceeds we made on the estates like this that was meant for the middle class people that we are going to recycle and use to build that of the low class people. It is going to go round and they will continue to marvel, they ain't seen anything yet," the governor revealed.

Load more