Jamiu Yisa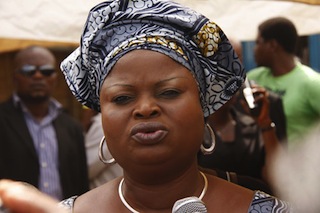 The race to replace Senate Minority Whip, Senator Ganiyu Olanrewaju Solomon, as representative of Lagos West Senatorial District in the Upper Legislative Chamber, assumed a more interesting and competitive edge with the decision of the state deputy governor, Princess Adejoke Orelope-Adefulire, to run for the seat on the platform of the All Progressives Congress (APC).
Posters of the Deputy Governor indicating her intention to run for the seat are all over local government and local council development areas which make up arguably the largest senatorial district in the country.
Senator Solomon has indicated his intention to run for the governorship of the state, hence, the scramble for his replacement.
It was learnt exclusively that Princess Adefulire has received the endorsement and approval of the state national leader of APC, Asiwaju Bola Tinubu, who it was reported poured encomiums on the deputy governor for being a committed and loyal party member.
"Joke is a real loyalist, a committed member of our party and vision. I will support her aspiration," the two-time former governor of Lagos State was quoted as saying.
Princess Adefulire combined a rich experienced in the executive arm with the one she gathered as a legislator in the aborted Third Republic when she was elected member of the state House of Assembly on the platform of then Social Democratic Party (SDP).
In the current political dispensation, Princess Adefulire was a member of the state Independent Electoral Commission (LASIEC) before her appointment as the state Commissioner for Women Affairs and Poverty Alleviation in 2003, a position she held until 2011 when she became the state Deputy Governor.
In the race for Lagos West Senate seat, Princess Adefulire will slug it out with two time former Chairman of Agege Local Government and ex-Commissioner for Agriculture and Cooperatives in the state, Chief Enoch Kolapomoye Olorunfunwa (EKO) Ajiboso; former Minister of State for Defence, Ademola Seriki; current Chairman of Ajeromi Ifelodun Local Government, Kamal Abiodun Bayewu; and current Permanent Secretary in the state Ministry of Energy and Mineral Resources, Mrs. Regina Iyabode Obasa; for the APC ticket.

Load more