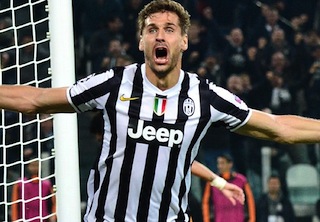 Fernando Llorente admitted his relief after ending his Serie A goals drought for Juventus in a 2-0 win over Palermo that moved the champions three points clear of Roma on Sunday.
"Obviously it's great to be on the mark again and the fact I scored today has taken the pressure off," the Spaniard told Sky Sport Italia.
Llorente has failed to impress so far having scored 16 goals last season in a 35-goal partnership with fellow striker Carlos Tevez on the way to Juve's third consecutive scudetto under former coach Antonio Conte.
Speculation has recently suggested Llorente could be on his way out following the arrival of fellow Spaniard Alvaro Morata from Real Madrid.
Morata, a Spain under-21 international, started alongside Tevez in a 1-0 Champions League defeat to Olympiakos in midweek and fashioned several chances on goal in a frustrating night for the Italians.
Llorente, however, said his form this season has been dented by a sore back and suggested he still figures firmly in Allegri's plans.
"I've always had the backing of the coaches, but I've had a sore back recently which hasn't helped my case," added the Spaniard, who nodded home in the 64th minute to seal the points after Arturo Vidal had struck just after the half hour.
"I wasn't too worried because I've always helped the squad and as long as we were winning I've been happy.
"Obviously it's better if the coach has more players to choose from. But up until now I think I've played pretty well for the team, all that was missing was a goal."
Juve's defeat on Wednesday means they sit third in Group A, three points behind Atletico Madrid and Olympiakos, and needing to beat the Greek side in a fortnight in Turin, as well as beating Malmo away in Sweden, to have a realistic chance of snatching a last 16 place in the Champions League.
Llorente added: "We didn't start the group well and we have two key matches against Olympiakos and Malmo coming up.
"If we win both of them we should pull through to the knockout stage."

Load more