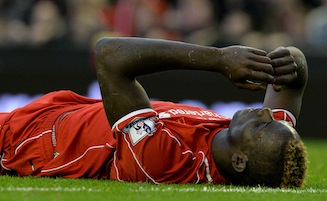 Liverpool manager Brendan Rodgers said Mario Balotelli's workrate has improved despite the striker yet again failing to find the net in a goalless Premier League draw with Hull City at Anfield on Saturday.
The Italy forward has scored just once for the Reds in 11 appearances since his £16 million ($26 million, 20 million euros) pre-season move from AC Milan and has yet to do so in the Premier League for his new club.
Balotelli, who has carried the weight of Liverpool's goalscoring burden in the absence of injured England striker Daniel Sturridge recently, had a couple of opportunities in a frustrating stalemate against Hull.
The former Manchester City man has been criticised for his poor work ethic since he arrived on Merseyside, but Rodgers praised the 24-year-old's efforts against Hull.
"I thought Mario worked very well," Rodgers said.
"He maybe thought he wasn't going to play. But he is working hard and he is doing his best. It is that wee bit of confidence sometimes.
"I thought he kept going, kept getting into the areas and I thought him and Rickie Lambert worked very well. Performance wise, I thought we did very well."
Rodgers acknowledged, though, there was still plenty more to come from Balotelli, who was criticised in some quarters for swapping shirts with Real Madrid's Pepe during half-time in Liverpool's 3-0 Champions League defeat by the holders at Anfield on Wednesday.
"I have only worked with him a short period of time. I gauge it first and foremost on the training field," Rodgers said.
"Mario puts himself out to train every single day. He is out there wanting to train, wanting to improve.
"Goalscorers will tell you they get their energy from the ball hitting the back of the net. He worked very hard," the Northern Irishman added.
"He knows he needs to run and work and press here. For the team, it was big effort on the back of playing against a good team in Real Madrid. We just couldn't find that final touch against Hull."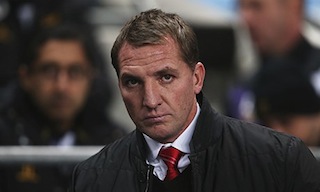 Hull manager Steve Bruce felt Balotelli was the biggest threat to his side at Anfield and said the Italian had unfairly become a scapegoat for Liverpool's modest start to the season.
"To be fair to Balotelli, I thought he was their best player," Bruce said.
"He is not everyone's cup of tea but he is a bit of a character, a bit of a maverick and when you sign a maverick you have to treat him differently. The kid is a talent," the former Manchester United defender added.
"He was good spirited enough to swap shirts after (the match) but he did it out of the way of the cameras!
"He has become the whipping boy. I thought he did OK the other night against Real Madrid. For me, he was Liverpool's most effective player."
Bruce also reserved special praise for Hull's third-choice goalkeeper Eldin Jakupovic who made a string of fine saves to enable the Tigers to secure a point after being given the first Premier League start of his career because of injuries to Allan McGregor and Steve Harper.
"He has kept a clean sheet at Anfield. I am sure he will remember it," said Bruce.
"Eldin has waited a long time for his chance. It is not easy being the third-choice keeper.
"He came on at the Emirates against Arsenal and did well. He is an experienced goalkeeper who just needed to get used to playing in England.
"No disrespect to him, but it is difficult physically to play here.
"However, he stood up to the task of the corners of Steven Gerrard particularly well."

Load more