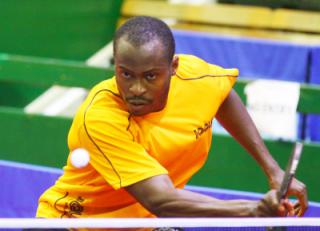 Although Aruna Quadri is the least seeded player in his group but with the goal of reaching the quarter-finals, Nigeria's Quadri progressed to the round of the last eight at the Liebherr 2014 Men's World Cup in Düsseldorf against all expectations.
Occupying the No.17 seeded position in the draw, he beat Japan's Kenta Matsudaira, the No.12 seed (11-3, 7-11, 11-6, 5-11, 11-2, 13-11) and Russia's Alexander Shibaev, the No.14 seed (11-6, 11-7, 11-4, 11-8) on the opening day of play (Friday) to secure first place in his group.
On the second day, Saturday, he continued his impressive run of form. He overcame Hong Kong's Tang Peng, the No.8 seed (7-11, 11-9, 12-10, 11-8, 9-11, 11-3) in his first round encounter.
A quite remarkable performance which exceeds those of all others from the African continent since the days of his compatriot Atanda Musa. He reached the quarter-finals under a different system of play in 1984 in the Malaysian capital city of Kuala Lumpur.
"My Time Out at 11-10 in the third game earned me the win; if I had lost that game I would have lost the match", said Quadri. "I felt good and played courageously; I was focused and had confidence.
"I must confess it was not an easy match for me because from the start I made a lot of silly mistakes which wanted to repeat itself in the second set, but I was lucky to have escaped. "Throughout the match I was a bit nervous because I knew that I had to continue to slow down the pace of the game.
"The time out I took in the fourth set really helped me because if I did not I would have lost. This is the biggest win of my career and I will not be complacent with all these victories but continue to work hard," the Portugal based Nigerian ping ponger said.
Undoubtedly if there is a man in form in Düsseldorf it is Quadri; understandably the coach sitting courtside, Martin Adomeit, was delighted.
"He's playing well; everything seems to fit, he's having fun!" said Coach Martin Adomeit.

Load more