Anxiety continued to mount on Monday ahead of the release of over 200 Chibok schoolgirls abducted on 14 April this year by Boko Haram insurgents in Borno State, northeast Nigeria.
At press time on Monday, the girls were yet to regain their freedom after being in Boko Haram captivity for 196 days.
Danladi Ahmadu, a man who claimed to be the General-Secretary of the terrorist group, had on Friday assured on Hausa Service of the Voice of  America (VOA) that the girls would be released to the Chadian President, Idriss Deby, today.
Following  the purported ceasefire last week by the deadly Islamist sect waging war against Nigeria in Borno, Adamawa and Yobe states, expectations were high last week that the Chibok girls would be released and cessation of hostilities by the insurgents would follow.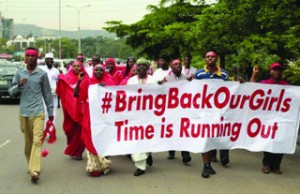 But this was not to be as the insurgents have continued to unleash deadly attacks in some parts of the country and even abducting more victims. At the weekend, 30 adloescents, including boys and girls, were taken hostage by the insurgents who also killed at least seventeen people in a village in Borno.
However, Nigerians anxiously awaited the release of the girls on Monday following assurances that a truce would be finally brokered today in Chad between the Federal Government and representatives of the sect.
The earlier ceasefire talks which were held in Saudi Arabia, with Cameroon and Chad participating, had been described as a ruse as the so-called representative of Boko Haram, Danladi Ahmadu, was said to be an impostor.
Meanwhile,  former Education Minister and one of the leaders of the #BringBackOurGirls campaign, Mrs. Oby Ezekwesili, says the hope of Nigerians that has been raised will be dashed if the girls are not freed today.
"It will be difficult to imagine the kind of grief that will be generated and it will be a kind of grief that those it is directed to, will not want to experience," she told the Daily Post.
Mrs. Ezekwesili, who spoke on Sunday at the daily sit-out of the group, said protest would continue even after the girls have been freed.
"God forbid, if tomorrow (today) comes and our girls are not back. We are not going to simply fold our mats and go, whether we have a positive or negative outcome.
"If tomorrow comes and tomorrow comes positively, it will birth a successive initiative with the focus on the girl-child in Nigeria.
"The Chibok girls are a symbol of what we must continue to advocate for, in the aspect of the girl-child in Nigeria, " she said.

Load more