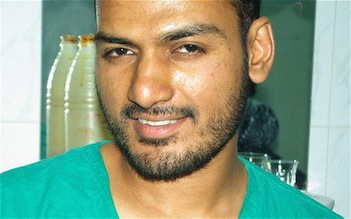 Abbas Khan, the British doctor who died in a Syrian jail last year, was unlawfully killed, an inquest jury in London ruled on Monday.
Syrian authorities claimed that Khan, who was arrested last year after travelling to Aleppo to treat wounded civilians, committed suicide and was found hanging in a prison cell in Damascus on December 16.
But the jury at the Royal Courts of Justice ruled that the 32-year-old orthopaedic surgeon had been killed.
"Dr Khan was deliberately and intentionally killed without any legal justification," said the forewoman of the seven-man and four-woman jury.
They delivered the verdict of "unlawful killing" but said the medical cause of the death was "unascertained".
During the two-week hearing, the jury were told there was no evidence that Khan had gone to Syria to fight.
"It is clear that he wanted to use his medical skills to help others, and that included helping others in conflict-torn Syria," said the chief coroner, judge Peter Thornton.
The family has long dismissed Syria's assertion that Khan took his own life just days before he was due to be freed and handed over to a British lawmaker.
The dead man's brother, Afroze Khan, said the decision vindicated the family's legal fight.
"We have always maintained that he was mistreated, maltreated and tortured by the Syrian authorities and that he was murdered by the Syrians," he said outside court.
"All the allegations against my brother… have been disproved today."
Khan's mother blamed her son's death on the Syrian legal system.
"There was no justice in Syria like we have British justice here — no court, no justice — otherwise my son would have been released.
"I couldn't save my son. I trusted judges, lawyers and ministers but everyone lied to me. They stabbed me in my back," she said.
The family's lawyer Michael Mansfield said the case should now go forward to the International Criminal Court.
Khan's body was taken out of Syria by the International Committee of the Red Cross and returned to family members waiting in Lebanon.
Under English law, inquests are held to examine violent, unnatural or unexplained deaths.
They set out to determine the place and time of death as well as how the deceased came by their death, but they do not apportion blame.

Load more