Ayorinde Oluokun/Abuja
The Federal Government may be forced to embark on cost cutting measures like retrenching workers in some of its agencies to reduce its recurrent expenditure if the price of oil continues to fall, Dr. Ngozi Okonjo-Iweala, the Coordinating Minister for the Economy and Minister of Finance said in an interview with London-based Financial Times newspaper.
"We will have to look very hard at recurrent expenditure, and identify overlapping agencies. When the price is heading down, everyone sees the necessity but that doesn't stop them from hating you," the minister said in the interview with the newspaper.
The measure will definitely lead to mass retrenchment in the federal civil service which many Nigerians believed is over bloated.
Government had toyed with the rationalization and restructuring of its agencies in the past over complaints that over 70 per cent of its annual budget is being spent on salaries and overheads, but had shied away from going ahead with it out of the fear of political backlash that may result from the action.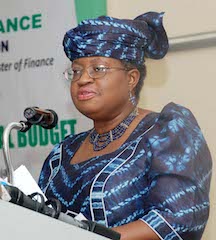 Ironically, the minister had last week said at a briefing in Abuja that the falling oil prices is not a threat to the Nigerian economy.
It is estimated that Nigeria has witnessed a near 30 per cent decline in revenues over the past three months. The 36 states of the federation, most of which depend on the central government for funding of over 70 per cent of the budget are already complaining of inability to pay salaries and meet obligations to contractors as a result of declining funds from the federal purse.
Though the price of Nigeria's Light Brent crude still hovers around $86 a barrel, some analysts have predicted that oil may plunge to around $70 per barrel in the next few weeks. The federal government, which depends on oil for about 80 per cent of revenues based its estaimate for the 2015 budget at an oil price of $78 per barrel. This is up from $77.5 per barrel in 2013.
Okonjo-Iweala said if oil price dips below $78 government will have to take some painful measures which will include draw down on the Excess Crude Account (ECA) she set up to keetp savings above the budgeted oil price.
She said the country can survive on the ECA for three months to avoid what she called "hard landing".
"But even if prices continue to go down we can survive sufficiently for two to three months. That is the time needed to get other measures in place," she said.
Nigeria had used the same ECA then with a balance of about $22 billion to cushion the effect of the 2008 global financial crisis when there was a similar dip in price of oil.
"Our buffers are slimmer this time," said Okonjo-Iweala who put the amount in the ECA at about $4 billion which is $2 billion short of what the International Monetary Fund (IMF) had recommended.
She added that the falling oil price means Nigeria will have to accelerate the bid to diversify its sources of revenue.
"On the fiscal side we need to ramp up our non-oil revenues," Okonjo-Iweala said.
McKinsey, a consulting firm, she said, has been carrying out an extensive review of revenue services in order to identify potential gains.  She added that that lower oil prices would provide a stronger incentive to government to rein in oil theft, which has cost billions of dollars a year, and help to drive through stalled oil sector legislation to stimulate production.
"That would enable us to pick up quantity to help us cushion on the price side," she said.

Load more