Damilare Okunola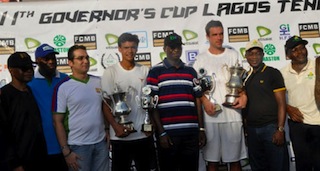 Despite the fact that this year's Governor's Cup Lagos Tennis Championship is an invitational tournament for players within the African continent, Nigerian players will sweat it out against African top players being invited for the championship.
According to the list of male and female players sent to P.M. NEWS Sport by the Secretary of the Nigeria Tennis Federation, NTF, Mrs. Gloria Ukwemkpu, Africa's number three male tennis player, Mohammed Safwat, Sabry Sherif, both from Egypt; Garanganga Takanyi from Zimbabwe and a former winner of the Governor's Cup, Ruan Roelofse top
the male log of players for the Etisalat Nigeria and FCMB sponsored event.
In the female category, Africa's number one star, Chanelle Sheepers (ex champion), Simmond Channel both from South Africa, Razafimhatratra Zarah from Madagascar, all former stars of the Governor's Cup, will lead the charge for the tournament which will hold from 17-22 November at the Lagos Lawn tennis Club, Onikan.
The Nigerian contingent is led by Clifford Enosoregbe, Abdulmumuni Babalola, Atseye Henry, Shehu Lawal and Otu John among others. The Nigerian ladies will be led by Sarah Adegoke, Samuel Blessing, Agugbom Christine, Akingbade Ronke and youngster Elizabeth Pam.
With the list of about 64 players being released by the NTF, it is not clear whether the players will have to slug it out in a qualifying series before the main draws, but Tournament Director, Prince Wale Oladunjoye, said that "the tournament will involve 64 men and women players drawn across African continent".
The list in full
Nigerian Female Players
1. Adegoke Sarah
2. Samuel Blessing
3. Agugbom Christy
4. Akingbade Ronke
5. Pam Elizabeth
6. Kienka Loila
7. Aiyegbusi Aanu
8. Donatus Loveth
9. Airhunwunde Osariemen
10. Olowu Bukola
11. Ebijimi Pauline
12. Ibrahim Omotayo Osewa
13. Quadri Aminat
14. Anuna Blessing
15. Dirisu Ngozi
16. Esorae Nosakhaire
Nigerian Male Players
1. Enosoregbe Clifford
2. Babalola Abdulmumin
3. Atseye Henry
4. Shehu Lawal
5. Otu John
6. Otu Thomas
7. Madueke Nonso
8. Omoile Samuel
9. Micheal Moses
10. Imeh Joseph
11. Balami Umaru
12. Paul Christian
13. Emmanuel Sylvester
14. Adamu Sani
15. Alade Kehinde
16. Idoko Emmanuel
Foreign Players (Female)
1. Scheepers Channelle (RSA)
2. Jabeur Ons (Tunisia)
3. Simmond Chanel (RSA)
4. Le-Roux Madrie (RSA)
5. Fouroclas Natasha (RSA)
6. Razafinmhtratra Zarah (Madagascar)
7. Abou Zekry Ola (Egypt)
8. Sherif Mayar (Egypt)
9. Hattingh Ilze (RSA)
10. Sammons Michelle (RSA)
11. Grandin Natalie (RSA)
12. Ibbou Ines (Algeria)
13. Atit Rita (Morocco)
14. Hanza Yasmine (Egypt)
15. Qostal Lina (Morocco)
16. Andria Marosoa Sandra (Madagascar)
Foreign Players (Male)
1. Safwat Mohammed (Egypt)
2. Sabry Sherif (Egypt)
3. Garanganga Takanyi (Zimbabwe)
4. Mark Fynn (Zimbabwe)
5. Hossam Karim (Egypt)
6. Kiegou Alexis (Benin)
7. Roelofse Ruan (RSA)
8. Gooch Damon (RSA)
9. Janse Van Rensbury Benjamin (RSA)
10. El-Amram Reda (Morocco)
11. Saidu Diallo (Mali)
12. Tunde Segodo (Benin)
13. Theophile Segodo (Benin)
14. Hassan NdaYishmiye (Brundi)
15. Mamoun Kaim Mohammed (Egypt)
16. Ira Dunkwda GlynOrly (Burundi)

Load more