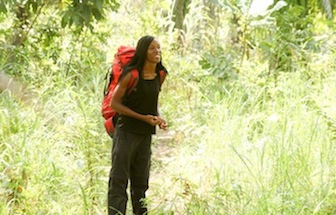 Samantha Appi has emerged as 'The Last Woman Standing' of Gulder Ultimate Search 11 after Evi Addoh was evicted for giving up during the 'Bucket Trap' task.
The title of Last Woman Standing comes with a new urban 2014 Ford EcoSport SUV in addition to the prize money for the position that she eventually finishes in.
Evi's eviction came as a result of her failing the 'Bucket Trap' task, which involved a contestant pulling a bucket of sand weighing exactly 30 per cent of their body weight and keeping it from touching a watermelon on the ground. The task was aimed at identifying the strongest and weakest warriors.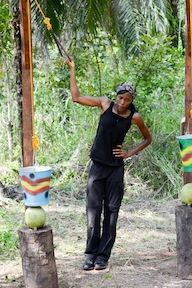 After a while, Evi gave up, allowing her bucket of touch the watermelon. This led to the anchorman Chidi Mokome evicting her from Gulder Ultimate Search XI.
At the end of the task, Otto Canon was declared winner while Samantha was asked to look around and describe her observation. She stated, while blushing;
"I'm just realising it sir, Evi is not there," she said.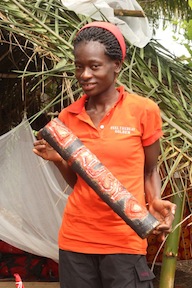 Chidi Mokeme chuckled and responded, "Yes Evi is not there, Evi has fallen by the way side and that should lead you to another realization, you are the last girl standing."
The other contestants cheered and congratulated her for being the 'Last Woman Standing'.
Samantha Appi will however have to battle it out with the remaining four male warriors Nne Cosy Joe, Ubachukwu Chinedu, Otto Canon Chimenem, & Afolabi Emmanuel Olusegun in the search to retrieve the General's War Helmet.

Load more