By Ade Ola
Abeeb Adekunle Olayiwola, a student of Crop Production and Soil Science at the Ladoke Akintola University of Technology, LAUTECH, Ogbomosho, Oyo state, has been arrested over alleged unlawful possession of other students' properties, among the item are over 20 handsets.
Olayiwola, 22, was nabbed by a student who handed him over to security operatives attached to the institution after the items were found in his possession.
Bello Nurudeen, the student who caught Olayiwola, disclosed that he noticed Abeeb carrying a female bag and moving towards a gutter close by.
The Agricultural Economics and Extension student said: "I felt uncomfortable when I saw him, a guy carrying a woman's bag. I almost waved the thought off, thinking it could belong to his girlfriend. However, I followed him up and traced him to the gutter side".
"I saw him drop the bag and he quickly left the scene. I noticed him carrying another bag from the base of the ICT building again, heading straight to where he dropped the former. This time, the bag appeared like that of a male.
"I monitored his movement as he was transferring some items from the former bag to the latter. I decided to move closer to see things clearly.
"When I challenged him to explain whose bag he was carrying, he felt infuriated and said: 'Why are you questioning me?'
"Then, it was apparent that something was fishy and I immediately called the attention of other students around and everyone came around.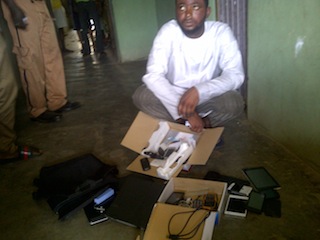 "While we were questioning him, security officers from the new ICT building noticed the crowd at the scene and came around to take over the case".
Asked what he was doing at the point where he was caught, Olayiwola explained that he came for exams, claiming to be a student of AEC in his second year.
At that point, he was asked to provide the name of his class rep for the sake of identification but he could not.
The name he mentioned was wrong. It was later learnt that Olayiwola was a fresher in the department of Crop Production and Soil Science.
When further search was conducted on him, three phones for which he could not give convincing proof of ownership were found in his bag and he was handed over to the security unit for appropriate investigations.
Officers from the security unit alongside some Students Union Government, SUG, representatives later recovered twenty other phones from Olayiwola's room in the hostel.
When the suspect discovered that the phones had been found in his room, he confessed to have committed the said crime and claimed to have sold about three of them already.
The items recovered from him includes 23 phones, six batteries, six SIM cards, five memory cards, two Hand-frees, one hand bag and one HP Pavilion Laptop.
At the time of filing this report, a phone call had been made to inform the suspect's father, Mr. Olayiwola who promised to join the university's security unit.

Load more