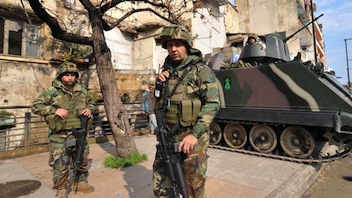 Lebanese troops retook a Tripoli neighbourhood Monday, where thousands of civilians had fled deadly fighting with Islamist militants who have battled the army across the northern city for three days.
The army was in full control of the Islamist bastion of Bab al-Tebbaneh after troops moved into the battered district without meeting any resistance, a military spokesman told AFP, speaking on condition of anonymity.
"The army has taken over Bab al-Tebbaneh," said the spokesman, adding that troops had captured 162 militants since Friday.
The army issued a statement appealing to militants still at large to turn themselves in.
But an AFP correspondent who accompanied troops into Bab al-Tebbaneh said the militants were nowhere to be seen.
Troops carried out house-to-house searches as they advanced and made several weapons seizures.
Thousands of civilians had fled the impoverished Sunni neighbourhood of some 100,000 people during a lull in fighting late on Sunday.
At least five civilians and 11 soldiers have been killed in Tripoli since the militants launched an unprecedented assault in the central market district on Friday.
It was the first time that deadly violence had hit the historic heart of Lebanon's second largest city, which has been rocked by a mounting spillover of violence from the more than three year civil war in neighbouring Syria.
The streets were all but empty Monday, even in areas far from the fighting, with people too fearful to go out.
The AFP journalist said he saw burned out vehicles on the edge of Bab al-Tebbaneh and extensive fire damage to homes and shops.
There had been chaotic scenes during the night as people of all ages fled their battered neighbourhood.
Many of the women walked out in their pyjamas, crying as they and the men were searched by army and intelligence troops.
Men carried out children and elderly people too weak to walk.
Schools and universities were closed across Tripoli on Monday because of the violence.
The coastal city has seen repeated clashes between Sunni militants sympathetic to rebel fighters in neighbouring Syria and Alawites loyal to the Damascus regime.
The army has also come under growing attack by Sunnis who accuse it of colluding with Shiite militant group Hezbollah in its intervention in the Syrian conflict on the side of the regime.

Load more