Abiodun Onafuye/Abeokuta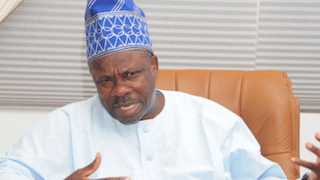 Governor Ibikunle Amosun of Ogun state has faulted a statement credited to his predecessor, Otunba Gbenga Daniel over alleged N200 billion debt owed to banks.
The governor made the statement while responding to questions posed to him by PM News during the commissioning of 'Orange Valley Estate' project on Friday in Abeokuta, the state capital.
Amosun disclosed that no state can borrow up to 200 billion from banks, except through the assess to bonds, revealing that, the highest any bank can borrow out is N25 billion at a time.
Amosun explained that the highest his administration is owing any bank is 11 billion naira adding that the government only uses two banks, declaring that most of his critics are marvelled and confused over his giant stride achievements in the state.
According to the governor, "I am happy the federal ministry of finance is talking now, and they know there is no state that can borrow such amount unless you take a bond. The maximum you can take is probably 50 billion and that will not even happen because banks will not give you that.
"Even last week, most of the states said they were not comfortable with it because no bank can borrow anybody money without the approval of the Central Bank which is strange to me. Though, the CBN, has to come up with their regulations that no bank can borrow beyond 25 billion to anybody, company, states etc and that applies to only the premiere banks, which is about four of them. I have told you severally, we use only two banks and the highest we are owing one of the banks, I can conveniently tell you is about 11 billion, even if we are owing the other one 25 billion, how can that be N200 billion?
"It is because they don't have the idea, they are marvelled at what we are doing and just like a colleague put it, people that want to bring you down, when they stand in the tallest building in the world, they'll say they can't see anything, that is why they will come here and say, what is they are saying?"
"Before they said we are just demolishing houses and that we can't do any road, now that they can see the roads, they are now trying to shift the emphasise that it is just roads, they have seen the schools coming up, they are confused, these housing projects are also coming up and they are more confused," he said.
Addressing people from all parts of the state who came to witness the commissioning of the first-gated estate in the state, elated Amosun disclosed that the premium housing comprising about 130 units of semi-detached 4 bedroom duplex constructed by Ogun State Property and Investment Corporation, OPIC was delivered within nine months.
Explaining the idea behind the projects, he said,"the government was determined to provide houses for many people who work in the state but resides in Lagos because they couldn't find suitable structures in the state."
He explained that proceeds from the premium housing units will be used to build houses for low income earners across the state adding that the type of project were going on in other senatorial districts across the state.

Load more