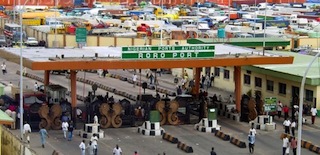 Forty-three ships laden with various commodities are expected to arrive Lagos ports between Oct. 28 and Nov. 27, the Nigerian Ports Authority (NPA) said on Tuesday in Lagos.
The NPA said this in its daily publication, "Shipping Position", made available to NAN.
It said 17 of the expected ships would arrive with containers, while 14 others would sail in with food items.
"Six ships will sail in with rice; three will arrive with bulk wheat; two with frozen fish; while other ships will bring in crude palm oil, bulk malt, bulk sugar," the NPA said.
According to the publication, general cargo would come in five ships, while three ships would sail in with vehicles.
The NPA said that of the expected ships, four would arrive with petrol, kerosine, base oil and bulk coal
It, however, said that 11 ships laden with petroleum products had arrive Lagos, waiting to berth.
According to the NPA, the ships sailed into the ports with petrol, kerosine and bulk gas.
It said that 12 other ships had arrived the ports with food items and containers.

Load more