Kazeem Ugbodaga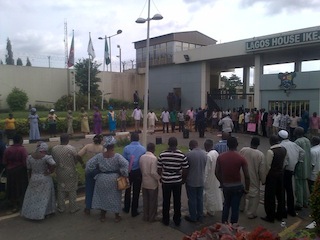 Staff of the Adeniran Ogunsanya College of Education, AOCOED, Ijanikin, Lagos stormed the office of the Lagos State Governor's Office on Monday to protest non-remittance of 17 months of pension funds deducted from their salaries by the Lagos State Government.
The staff who protested in their hundreds blocked the entrance to the Governor's Office with three buses so that vehicle could not go out or come into Governor Babatunde Fashola's office as they chanted anti-government songs.
The staff had protested two weeks ago without result and decided to storm the Governor's Office at Alausa, Ikeja, Lagos, Southwest Nigeria to shut the place down to demand for their entitlement.
Spokesperson and Chairman, College of Education Academic Staff Union, COEASU, Michael Avosetinyen said following the earlier protest, Fashola constituted an ad-hoc committee to look into the issues raised by staff of the school and proffer immediate solution.
"Consequently, representatives of the staff unions were invited to a meeting by the Special Adviser on Education, Otunba Fatai Olukoga. On arrival at the meeting, we discovered to our total dismay that Otunba Fatai Olukoga was to chair the meeting and this, the union completely rejected.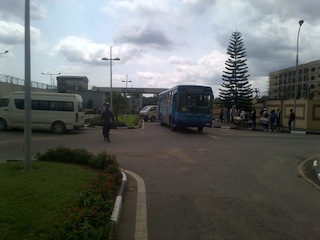 "The rejection was based on the fact that the special adviser had chaired several similar facts finding committee on the same issues without any positive solution, which indicates that his hands are not clean in matter protested against, thus, he cannot be a judge in his own case," he stated.
Avosetinyen said the government had failed to remit 17 months of pension funds deducted from salaries as well as retired staff of the school not having access to their retirement benefits for the past three years.
"There is also the issue of non-payment of balance of the 18 months salary arrears promised by the Lagos State Government. There is also attempt to reverse the 65 years retirement age to 60 years.
"The government is grossly under-funding Adeniran Ogunsanya College of Education and AOCOED staff. There is structural defect of the newly commissioned College of Health Centre and poor infrastructural development from the Lagos State Government," he said.
He lamented that government had deharmonised members of AOCOED and its staff school, saying that the union strongly believed that Fashola would listen to the demands of the staff and meet them.

Load more