Jethro Ibileke/Benin ‎
Edo state governor, Comrade Adams Oshiomhole on Tuesday disclosed that the state government would drag the Economic and Financial Crimes Commission (EFCC), to court for abandoning its constitutional role and allegedly becoming a 'political commission."
Comrade Adams Oshiomhole who dropped the hint during a townhall meeting held in Benin explained that a legal team has been assembled to challenge the authority of the EFCC.
The governor said he was surprised when the EFCC chose to investigate impeachment of the former Deputy Speaker, Festus Ebea, when so many impeachments have occurred across the country.
"Our own EFCC is now Economic Financial and alleged Political Crimes. I am still unable to understand how EFCC assumed responsibility to investigate impeachment of a Deputy Speaker. That is how far the EFCC has degenerated.
"When armed robbers are the one looking for thieves then the story will change. We are watching how things will go. We have assembled a legal team to take EFCC to court to challenge their authority to become a political commission. We will fight them on our feet and never beg them on our knees. We will show them respect but never shall we display an act of cowardice. We want to see how far they can go. The greatest weapon is to deliver on good governance," he said.
The governor also hinted of plans to sue Pastor Osagie Ize-Iyamu over alleged libelous statements after a supposed bomb attack on a building owned by him, adding that, he was still consulting "to find out if he (Ize-Iyamu) is right to make those criminal libel and get away with it."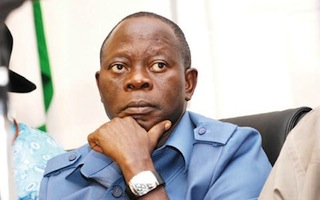 He said the self-inflicted wound and arranging bombs was meant to divert attention from the criminal acts on the attack on Edo Legislators' Quarters, stressing that the APC defectors want to attract sympathy to make people feel that they were suffering because of joining the PDP. He noted that the orgy of violence in Edo reared its head when Pastor Ize-Iyamu and others decamped to the PDP.
"Edo State has always been peaceful. The APC and PDP had co-existed peacefully in Edo State without such ugly incidents as witnessed in the past few weeks, and it is clear that these decampees are the ones who have now introduced these spires of violence to the state since they have no new values to add," the governor said.
"The poster Pastor Ize-Iyamu carried to the Airport reads, 'Mr. President, see what we are suffering for supporting you.' All of these are designed to appeal to the powers in PDP to grant more concession having portrayed themselves as people who are suffering because they decamped," Oshiomhole said.
He said he was convinced that the leadership of the PDP at all levels were not deceived by 'these opportunistic, infantile and self-serving antics of the recent decampees.'
"We have it on good authority that Pastor Ize-Iyamu had boasted to the powers-that-be in Abuja that he would get more than half the members of the state House of Assembly to decamp to the PDP. However, since he has been unable to do that, he has resorted to self-inflicted attacks to give the impression that he is a factor and force in the PDP and in Edo politics."
"The resort to the use an Improvised Explosive Device is clearly a desperate attempt to attract attention to themselves having lost out in the political equation in the PDP in Edo State to where they are now seeking refuge and where they are being treated as refugees."
"The first question is: why would anyone attack Mr Frank Erewele? Of what importance is Erewele to the political equation in Edo state? Who knows Erewele outside his village in Edo Central? Erewele rushed to the media to accuse the government of the attack. Later he pointed his finger at a Commissioner. Who will be the next person to be accused?"
"Secondly. Why would anyone attack an obscure dental clinic if the target were Pastor Ize-Iyamu? If Ize-Iyamu were truly a target, would he say the supposed assailants do not know his house? Why would any attacker focus on an unoccupied gate house in a clinic if Pastor was the target? It was so convenient that on the very day of the attack, the security man was not in his gatehouse!"
"Thirdly. Why would anyone want to attack Erewele or Ize-Iyamu when they are not relevant in the PDP? Why would anyone attack Ize-Iyamu or Erewele when the bigger PDP men, including Chief Tony Anenih, Dan Orbih and Lucky Imasuen have never been attacked in any form or manner in the state. Ize-Iyamu and Erewele are not even close to the center of power and decision making in the PDP!"
"By Ize-Iyamu's ludicrous account and his haste to accuse Comrade Oshiomhole of culpability, we are persuaded to believe he is merely acting out a worn-out script. It is laughable indeed that Ize-Iyamu would seek to accuse the Governor, who is the Chief Security Officer, of creating tension and chaos in his own state."
"Mr Ize-Iyamu's wild allegation fits into PDP's jaded style of stage-managing assaults on its agents to be used as pretext by its thugs to attack officials of Edo State Government and agents of the APC.
"We reject in its totality, any attempt to suggest or drag the APC and its government in Edo State into any made-up problems by persons who are in no way threatening to the people of the state. We shall not be distracted from our goals of quality, accountable, responsible and democratic governance to improve the lives and communities of our people.
"We urge the likes of Ize-Iyamu and Erewele to desist from trying to make the country ungovernable by precipitating flash-points of crisis and confusion and call on our security forces and national leaders to put them under special watch. The unity of Edo State and Nigeria must not be compromised or contaminated by self-seeking and selfish persons.
Most speakers at the event urged the governor to disregard the distractions of the opposition and be focused in delivering dividends of democracy which they noted would sway victory for the APC in the state.

Load more