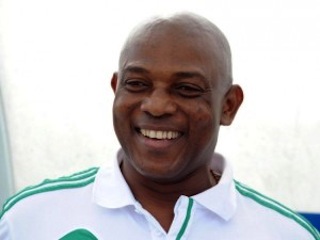 Chris Giwa, the Nigeria Football Association (NFA) Chairman who was restored to office on Thursday by a Jos court ruling, said on Monday that sacked coach of the national team, Stephen Keshi will resume work with the team today.
Giwa who spoke to newsmen before the inauguration of interim committees at the NFA secretariat in Abuja urged all Nigerians to remain calm while the issues surrounding the NFA family crisis and the much-touted looming FIFA ban were resolved.
Giwa reiterated that his board had reviewed and decided to sustain the out-of-contract assignment given to the technical crew of the Super Eagles led by Stephen Keshi.
"It was agreed at our board meeting held Thursday that the technical crew headed by Keshi should remain in charge.
"The issue of qualification to AFCON 2015 is not about Keshi. Therefore, all he needs now is support from all of us.
"We have two more games left in the qualifiers and if you are telling someone who has started a process to go now when he has just two more games left to play, I don't think it is right.
"I don't think whoever is coming in will have anything meaningful to contribute more than what is already on ground.
"So, all we need now is to rally round our brother Keshi and pray that God will bless the team with victory in their two remaining matches.
"I have spoken to Keshi and, by the grace of God, by Tuesday or Wednesday he should resume his normal duties as the coach of our national team," he said.

Load more