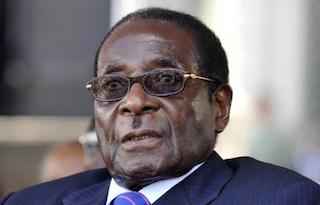 Zimbabwean President Robert Mugabe opened parliament Tuesday with a warning that locals who front for foreign firms trying to dodge indigenisation laws face "decisive action".
"It is depressing that some of our people have turned themselves into mere fronts of foreign investors," the 90-year-old veteran leader said, doubling down on controversial rules that bar foreign companies from holding majority stakes.
"Decisive action shall indeed be taken to address these negative developments and to strengthen the general enforcement of the relevant legislation," he said.
In 2007, Zimbabwe enacted a so-called "indigenisation law," forcing foreign-owned firms to hand over at least 51 percent of shareholding to local partners.
Mugabe said the law, which followed controversial land seizures launched in 2000, was meant to reverse imbalances which resulted from colonial rule.
The law has forced mining firms, including the country's biggest platinum miner Zimplats and international banks such as Ecobank, to cede 51 percent of their shares to locals.
Critics say the law benefits Mugabe's close allies while scaring off foreign investors at a time the country is in dire need of investment and is experiencing a liquidity crunch.

Load more