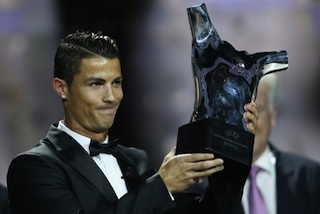 World football governing body FIFA along with France Football magazine have revealed a 23-man shortlist for the 2014 Ballon d'Or, dominated by the German national which won the last FIFA World Cup in July.
Former Germany captain Philipp Lahm is included in the shortlist along with present Germany captain Bastian Schweinsteiger, scorer of the World Cup winning goal Mario Götze as well as Thomas Müller, goalkeeper Manuel Neuer and midfielder Toni Kroos.
In terms of club representation, German champions Bayern Munich has the most representation alongside European champions Real Madrid, with six players each.
Ballon d'Or holder and favourite to retain the title, Cristiano Ronaldo leads the way for Real Madrid that also has Welsh star Gareth Bale, World Cup golden boot winner James Rodriguez, Sergio Ramos, Karim Benzema and Toni Kroos who only joined from Bayern after the World Cup.
Kroos' five Germany teammates make up the Bayern representation along with Dutch forward Arjen Robben who was instrumental in the Bavarians league title winning campaign and run to last season's UEFA Champions League semi-finals.
Also shortlisted are four-time winner Lionel Messi along with four Barcelona teammates including Neymar, Spain striker Diego Costa whose goals helped Atletico Madrid to the Spanish title and last season's UEFA Champions League final before moving to Premier League leaders Chelsea.
Costa's Chelsea teammates Edeh Hazard and Thibaut Courtois are also shortlisted as are Manchester United midfielder Angel di Maria and Manchester City duo Sergio Agüero and the only African on the shortlist, Yaya Toure.
A 10-man shortlist for coach of the year was also revealed and includes Diego Simeone of Atletico Madrid, Carlo Ancelotti at crosstown rivals Real Madrid, Jose Mourinho of Chelsea and Bayern Munich's Pep Guardiola.
Full 2014 Ballon d'Or shortlist
Gareth Bale (Wales), Karim Benzema (France), Diego Costa (Spain), Thibaut Courtois (Belgium), Cristiano Ronaldo (Portugal), Angel Di Maria (Argentina), Mario Götze (Germany), Eden Hazard (Belgium), Zlatan Ibrahimovic (Sweden), Andres Iniesta (Spain), Toni Kroos (Germany), Philipp Lahm (Germany), Javier Mascherano (Argentina), Lionel Messi (Argentina), Thomas Müller (Germany), Manuel Neuer (Germany), Neymar (Brazil), Paul Pogba (France), Sergio Ramos (Spain), Arjen Robben (Netherlands), James Rodriguez (Colombia), Bastian Schweinsteiger (Germany), Yaya Toure (Côte d'Ivoire).
Full 2014 Ballon d'Or coach of the year shortlist
Carlo Ancelotti (Italy/Real Madrid CF), Antonio Conte (Italy/Juventus FC/Italy national team), Pep Guardiola (Spain/FC Bayern Munich), Juergen Klinsmann (Germany/ USA national team),
Joachim Löw (Germany/Germany national team), Jose Mourinho (Portugal/Chelsea FC), Manuel Pellegrini (Chile/Manchester City FC), Alejandro Sabella (Argentina/Argentina national team), Diego Simeone (Argentina/Atletico Madrid), Louis van Gaal (Netherlands/Netherlands national team/Manchester United FC).

Load more