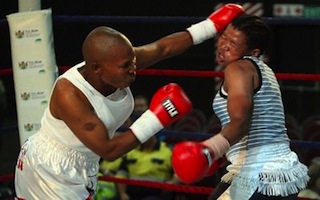 A South African female professional boxer has died following a knockout punch two weeks ago that put her in a coma, the sports and recreation department said on Tuesday.
Reuters reports that Phindile Mwelase, 31, fell into a coma on 10 October after a fight against Liz Butler, who defeated her by a knockout.
She died on Saturday at a Pretoria hospital.
Mwelase is the third athlete to die in sports-mad South Africa in less than a week. National soccer goalkeeper and captain Senzo Meyiwa was shot dead by intruders at his girlfriend's home on Sunday night.
Former world 800 metre champion Mbulaeni Mulaudzi was killed in a car crash on Friday.

Load more