Kazeem Ugbodaga
Officials of the Lagos State Taskforce on Environmental and Special Offences (Enforcement) Unit have impounded 30 commercial motorcycles (okadas) in a renewed bid to enforce the ban on okada plying certain routes in the state.
The taskforce also dislodged traders selling wares at Computer Village, Ikeja, and arrested four suspects.
The taskforce officials had swooped on okada riders plying Iju-Ishaga road on Monday. It is one of the roads they are prohibited from plying by the 2012 state Traffic Law.
The taskforce officials chased the okada riders with their newly acquired 200cc Super bike and successfully impounded the motorcycles.
Sensing their games were up, the okada riders abandoned their bikes and took to their heels to avoid being arrested and prosecuted.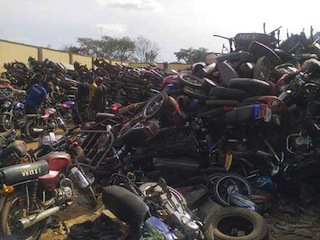 Taskforce Chairman, Bayo Sulaiman said residents in the area had been complaining that okada riders were back in full force plying prohibited routes and obstructing traffic in the area.
He stated that the taskforce also wanted to let the people know that it had not relented in its enforcement activities as being speculated in some quarters, warning that any okada rider arrested would be charged to court and their bikes forfeited to government.
During a raid on Computer Village on Monday evening, it was discovered that many of the traders were back on the streets hawking their wares once again.
According to Sulaiman, "We will ensure that the Computer Village is cleaned up and we don't want trading on the streets at the Village. We are warning them that if any of them comes to the road again to sell, we will seize their goods.
"Lots of people believe that we have relaxed in enforcement but we did not. We will ensure that places like Oshodi and Obalende that have been cleared of street trading and street urchins are well policed so that the traders and area boys (miscreants) do not come back to turn these places to nuisance."

Load more