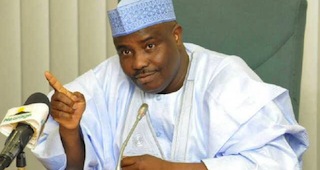 Nigeria's Speaker of the House of Representatives, Aminu Tambuwal, on Tuesday formally announced his defection from the ruling Peoples Democratic Party, PDP, to the All Progressives Congress, APC.
The Speaker who had been known to be close to leaders of the opposition party formally announced his defection to the admiration of members of APC in the House.
In a short speech at the end of plenary, Tambuwal said he was defecting to the APC for political reasons, adding that he only responded to the yearning of his people in Sokoto State in taking the decision.
He added that his decision to leave PDP followed months of consultations he had embarked on. Femi Gbajabiamila, the leader of APC Caucus in the House, said the defection of the Speaker will motivate the House to work harder.
He added that nothing has changed in the House as all members would work together for the benefit of the lower legislative chamber and greater good of the Nigerian people, implying that the Speaker may not vacate his position with the defection.
Tambuwal is expected to contest for the governorship of his native Sokoto State. His months of denial is believed to have been informed by his concerns about losing his position as the Speaker.
Tambuwal, after the declaration, adjourned sitting of the lower house of parliament till 3 December.
It was believed that the Speaker who was once ranked among the presidential hopefuls of APC is now gunning to become the next Governor of Sokoto, his home state.
Governor Aliyu Wammako, the incumbent governor of the State defected to APC alongside five other governors of the ruling PDP late last year.
Wammako is believed to be the political godfather of Tambuwal and he is said to favour the governor as his successor.
Though the Speaker had long be rumoured to be a closet member of APC, rumours of his eventual defection reached its peak when it was reported last week that he attended the meeting of APC in Sokoto convened to choose consensus candidates for the state's governorship and other elections.
Tambuwal was said to have told the gathering to accept him as "one of you starting from today".
P.M.NEWS gathered that with Tuesday's announcement, Tambuwal would be able to attend the extra-ordinary convention of APC scheduled for Wednesday.

Load more