Jethro Ibileke/Asaba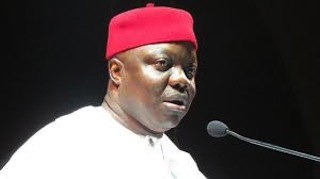 Delta state governor, Dr. Emmanuel Uduaghan has explained why it took his administration over three years to conduct local government election in the state.
The governor who spoke on Monday in Asaba while swearing-in the elected chairmen for 23 out of the 25 council areas, said there were legal issues when he attempted to re-constitute the board of the Delta State Independent Electoral Commission (DSIEC) following the expiration of the tenure of the previous board in 2011.
Uduaghan further added that his administration had conducted council polls in 2008, adding that, the tenure of those elected ended in 2011.
"Sometime in 2008, we did a local government election and the tenure of the elected officials ended in 2011, almost at the same time the tenure of the DSIEC board expired. In the process of putting up a new body of DSIEC, we had legal issues that stalled the process.
"It took another year to resolve that and when we finally constituted the board, it took them time to settle down and about two years to conduct this election. So, that accounted for the three years delay in the conduct of council polls," the governor said.
While urging DSIEC to fast-track the conduct of elections in the two councils of Ethiope East where the exercise was inconclusive and Ndokwa East, Uduaghan urged the newly sworn-in chairmen to consolidate on people-oriented projects of the previous administration.
He also advised them to sustain the peace and security in their respective councils as well as key into his administration's drive to develop the state economy without oil revenue.
Meanwhile, the state chapter of the All Progressive Congress (APC) has called for cancellation of all the results of the council polls conducted last Saturday, saying that they were not a true reflection of the will of the people.
Publicity Secretary of the party, Isaac Adaka Adakpo told newsmen in Asaba that DSIEC abdicated its functions to chieftains of the ruling People's Democratic Party (PDP) whose chairmanship candidates have been declared winners in the 23 councils.
He alleged that the elections were fraught with violence and gross irregularities, adding that, if the election results were not cancelled, the APC had overwhelming evidence to proof its case at the courts.
"DSIEC abdicated its responsibility to top government functionaries in the ruling party. That is why we will continue to say that elections would be better contested and challenged under the Independent National Electoral Commission (INEC)," he said.

Load more