Damilare Okunola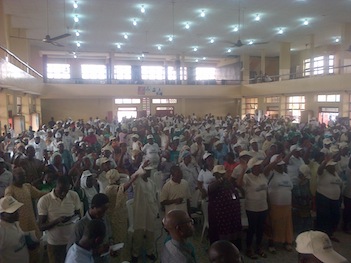 The Asiwaju of Ikorodu Land, Chief Babatunde O. Benson, has categorically stated that the next governor of Lagos state must emerge from Ikorodu division.
The 82-year old leader who made the statement during a world press briefing at the town hall in Ikorodu on Tuesday, 28 October, said the Lagos State Government has marginalised the division in the past, especially since 2007, when Governor Babatunde Fashola emerged as the winner of the election.
Speaking under the aegis of Eminent Persons of Ikorodu Division, EPID, Benson noted that there was not a single commissioner from Ikorodu Division appointed by the present governor, adding that, the only Special Adviser, Fatai Olukoga, was not appointed as an Ikorodu Indigene.
"Enough of this marginalisation. All the Senatorial Districts in the state have ruled expect Ikorodu Division. And as a matter of fact, we are capable of ruling the entire state from here but we have being marginalised all along.
"This has to stop because we all belong to Lagos state and should all be given a chance to rule," the respected septuagenarian added.
On whether Ikorodu Division has a strong candidate to contest as governor, Chief Benson retorted that of all the nine aspirants from the All Progressives Congress, APC, about four are from the Division.
He said: "We have Kara, GOS, Gbadamosi and Ogunlewe are from this Division. We are asking for this as our right and not something we are not fit to handle.
"We will go through the primaries and hopefully, things will work out our way. We cannot Deputise because the deputy is like spare tyres which you beckon on when the real deal is faulty."
At the occasion were prominent people from Ikorodu which include; Olubeshe of Ibeshe, Oba Richard Ogunsanya; Eze Ndigbo of Ikorodu Division, Eze Apostle Paul Uhegbu; the Council of Baales in Ikorodu Land, among others.

Load more