Jethro Ibileke/Benin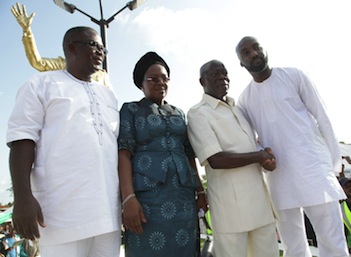 Governor Adams Oshiomhole of Edo State unveiled the statue of the former Chief of General Staff, late Vice Admiral Mike Okhai Akhigbe, to immortalise him in Fugar, Etsako Central Local Government Area of the state.
Speaking at the ceremony, Oshiomhole said "Everybody has the opportunity to define how they want to be remembered when they are alive and whether people remember or not, there are things you do that it is impossible for people to forget.
"This road on which we are hosting the event was constructed with several other roads by Admiral Akhigbe in nine months and one can only imagine if he had the privilege to live much longer, he would have done much more. So in Akhigbe we had a leader who remembered that no matter how much privileges he had in life, he needed to give something back to his roots.
"I believe that all of us who are here today would be inspired by what is being done in his honour. It is a great honour to be here to unveil this statue in memory of our late brother and leader," Oshiomhole said.
While commending the Chairman of the Local Government for deeming it fit to immortalize the late Admiral, the governor who added that the Chairman's action challenges the state government said that "nothing can be too much for the leadership that the late Admiral provided.
"I want to thank the people of Fugar for remembering their son and to see this crowd this hot afternoon waiting patiently for hours shows that even in death, Admiral Akhigbe commands the respect of his people and May God bring more development to this community," he said.
In his speech, the Chairman of Etsako Central Local Government, Mr. Emmanuel Momoh, said immortalizing the late Admiral was the least the local government could do in view of late Admiral Akhigbe's immense contributions to the development of the local government and the country.
Son of the late Admiral, Mr. Ikhane Akhigbe, commended the state and local governments for the honour done to their father and expressed the indebtedness of the family to everyone.
A Memorial Mass had earlier been held at the St. Theresa Catholic Church in memory the late Chief of General Staff.

Load more