Ayorinde Oluokun/Abuja
Lagos-based lawyer and human rights activist, Barrister Festus Keyamo has alleged that leading Niger Delta ex-militant, Government Ekpemupolo, also known as Tompolo has threatened to kill him.
Keyamo in a letter to the Inspector General of Police, Suleiman Abba on Wednesday said Tompolo want to kill him over his involvement in a matter involving the blood brother of ex-militant, George Ekpemupolo who was declared the winner of Warri South-West L.G.A election that was conducted last Saturday in Delta State.
Keyamo had yesterday alleged in an open letter that Governor Uduaghan used George to illegally substitute another candidate, Mr. Weyinmi Omadeli who won the party primaries 48 hours to the election.
In the petition he tagged "THREAT TO KILL MR. FESTUS KEYAMO BY MR. GOVERNMENT EKPEMUPOLO (ALIAS TOMPOLO)" which was also copied to President Goodluck Jonathan, the Director General, State Security Services and the Delta State Governor, Keyamo alleged that he received a call from Tompolo at exactly 10:13pm on Tuesday, October 28, 2014 during which the ex militant made the threat.
"I received a telephone call from one Mr. Government Ekpemupolo (alias Tompolo) with phone number 08027721208. We have been acquaintances in the past, so I know his numbers.
"After reaffirming that he is Tompolo when I picked his call, he went straight to the point by informing me that he wishes to inform me that he and his "boys" will kill me by beating me to death or shooting me anywhere they can find me.
"And that the hunt for me is on.
"His exact words in pidgin English was 'we dey look for you'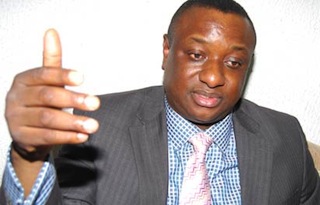 "Anywhere we see you, whether for Lagos or Abuja or Warri, we go beat you die or we go shoot you," Keyamo said of the alleged conversation between him and Tompolo.
The legal practitioner added that Tompolo said he would kill him because of his involvement in the matter involving his blood brother, Mr. George Ekpemupolo, who was used to illegally substitute another candidate, Mr. Weyinmi Omadeli (48 hours to the election) in the Warri South-West L.G.A elections that were concluded last Saturday in Delta State.
"He said no one has ever challenged his authority in Delta State," said Keyamo who said he asked Tompolo five times whether, he was, in fact, threatening his life over an open line.
He said the Niger Delta warlord replied that nobody in the country can do anything about it by the time he is dead.
"Co-incidentally, exactly three minutes after Tompolo dropped his line, His Excellency, Governor Udaughan called me at exactly 10.16pm, and I reported to him what just transpired between Tompolo and myself.
"The Governor promised to speak with him, but that cannot be reassuring enough, and I know the remedy in law against an intended murderer is not to beg him but to ignite the criminal justice system against him, no matter how comatose that system is.
"I know the subject of this petition, Tompolo, is a favoured citizen of this government, and I am not. I know Tompolo is close to those in power at the moment, whereas I am an ordinary citizen.
"I know Tompolo has money and influence (which are factors that are widely acknowledged to aid a suspect walk away with murder in Nigeria), but I have none of these. I know Tompolo has instrument to kill human beings, and I have none.
"In the circumstance, I am making this petition public so that when you refuse to attend to my complaint and outcry, the ordinary people of this country will, at least, know from where my death came and I will not join the long list of unresolved murders.
"My killer, should, at least be known," said Keyamo.

Load more