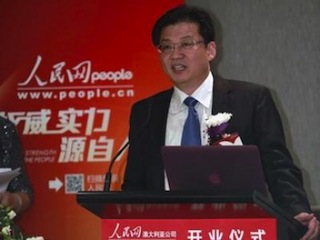 The Consul-General of the People's Republic of China in Lagos, Mr Liu Kan, on Wednesday said that the trade volume between Nigeria and China in the last seven months hit a record N1.7 trillion ($10.3 billion).
Liu told NAN in Lagos that Nigeria was currently China's third largest trading partner in Africa.
"The momentum and zest for trading between China and Nigeria is unstoppable, and is by the day, waxing stronger.
"At present, Nigeria is the third largest trading partner of China in Africa, while China is the largest source of imports into Nigeria.
"According to the statistics of Chinese Customs, in the first seven months of this year, the trade volume between our two countries rose by 42.8 per cent to $10.3 billion, the highest in history.
"The value of exports from Nigeria to China sharply increased by 147.5 per cent to $1.9 billion," he said.
The envoy said that there was currently a growing rate of economic cooperation and development between Nigeria and China.
The consul-general expressed optimism that both countries were bound to record "bumper harvests' in their growing economic cooperation.
Liu restated his government's commitment to promoting bilateral relations with Nigeria.
"In order to further promote the bilateral trade, my office will continue to create more trade facilitation with Nigeria.
"We now issue more business visas to Nigerians. So, more and more Nigerian businessmen now have the opportunity to visit China and do business," he added.

Load more