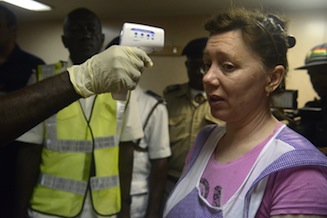 The Government of Norway on Wednesday announced a grant of 2.7 million dollars assistance to the African Union Support to Ebola Outbreak in West Africa (ASEOWA).
The Commissioner for Social Affairs, Dr Mustapha Kaloko, signed for African Union Commission, while the State Secretary of the Norwegian Ministry of Foreign Affairs, Mr Hans Brattskar, signed on behalf of his government.
The Norwegian contribution brings to 20.7 million dollars the amount so far collected from pledges made to the 35 million-dollar AU budget for the Ebola control programme.
The AU had targeted to deploy some 2,000 volunteer health workers to the three affected West African countries of Guinea, Liberia and Sierra Leone.
Shortly after the agreement, Kaloko commended the Norwegian Government for its support to Africa's development priorities and the current support to the efforts of the AU on Ebola.
"The only way to stop the epidemic is to put people on the ground and the African Union is taking a lead on that front," he said.
Kaloko said the agreement would provide a significant contribution to the AU programme at a crucial time when international efforts against Ebola Virus Disease were being intensified.
The Norwegian government said it was impressed with effort of the African Union Commission in its strategy to tackle the Ebola outbreak.
"We also recognise AU member countries that are providing financial contributions, personnel or other resources to the ASEOWA operation and we encourage others to do the same.
"We note the African Union's increasing importance in continental and international affairs and urge ASEOWA to continue to cooperate and coordinate with other actors on the ground," Brattskar said.
He named the other actors as local authorities, the UN, civil society, among others.
The envoy said the ASEOWA operation was filling the existing gap in international efforts to the Ebola response.
"The African Union made a historic decision end of August by declaring Ebola a threat to peace and security in Africa, invoking article 6 (f) relating to its mandate with regard to humanitarian action and disaster management at its 450th meeting," he said.
The NAN reports that the commission has already deployed some 100 medical personnel to Sierra Leone and Liberia with another batch soon to be deployed to Guinea Conakry.

Load more