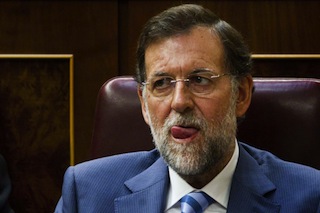 A Madrid court summoned 17 suspects including five mayors and a French energy executive for questioning in a corruption scandal that has embarrassed Spain's government, a judicial source said Wednesday.
The allegations that suspects including top members of the ruling Popular Party handed out building permits in exchange for bribes have sparked just latest in a string of damaging corruption scandals.
Of the 51 suspects arrested on Monday in connection with suspect deals worth 250 million euros ($318 million), 17 have been summoned to appear before a judge, the judicial source said.
At least five were due to appear at the National Court in Madrid on Wednesday — among them Didier Maurice, chairman in Spain for Cofely, a subsidiary of French energy giant GDF Suez.
The other four suspects are mayors of Spanish towns and an IT boss for the Madrid regional government.
Energy services provider Cofely is alleged to be the main beneficiary of the suspect deals to award contracts. Its press department declined on Wednesday to comment on the case.
Prime Minister Mariano Rajoy apologised in parliament on Tuesday for the corruption scandals involving members of his conservative party.
The probe is the latest in a string of corruption scandals that have hit Spain's political parties, banks, football clubs and even members of the royal family.
It comes on the heels of another scandal that has implicated former International Monetary Fund head Rodrigo Rato, a stalwart of the Popular Party and a former finance minister.
The scandals have hurt mainstream parties in the opinion polls ahead of a general election due next year.

Load more