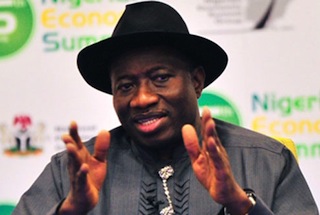 President Goodluck Jonathan in Abuja held a closed-door meeting with the executive members of the Inter-Party Advisory Council (IPAC) over the 2015 general elections.
The Chairman of IPAC, Mr Yunusa Tanko, told State House correspondents after the meeting, which held at the First Lady's Conference Hall of the Presidential Villa on Tuesday night that discussions centred on violence-free elections in 2015.
Tanko, who is also the National Chairman of the National Conscience Party (NCP), said that IPAC had come up with strategies to ensure that the polls were strictly issue-based.
"Our visit is a private one to discuss the issue of violence, free and fair elections.
"We were in a conference discussing violence-free election and it is our belief that the executive of IPAC meet with the president to discuss the issue of violence-free elections.
"A larger house meeting would be called for all the political parties to discuss violence-free elections in 2015.
"These are some of the strategies that we have employed ourselves because by the time the larger house meets we will discuss them.
"But the fact is that the code of conduct of the political parties which was signed by all the 26 political parties clearly stipulates how we should behave and that we should have issue-based campaigns.
"This is because it's actually the electorate that is supposed to be given the rightful duties to enjoy the dividends of democracy and it can only be achieved through peaceful coexistence and peaceful elections.
"We want to major on issued-based campaign in the interest of Nigeria and in the interest of the electorate".
NAN reports that IPAC is a statutory body of all the existing 26 political parties in the country and also serves as an advisory body to INEC.

Load more