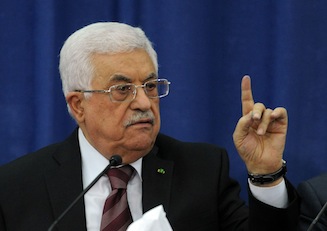 Palestinian president Mahmud Abbas on Thursday hailed a decision by Sweden to officially recognise the state of Palestine, his spokesman told AFP.
"President Abbas welcomes Sweden's decision," Nabil Abu Rudeina told AFP, saying the Palestinian leader described the move as "brave and historic".
Abu Rudeina claimed the move was linked to months of soaring tensions in occupied east Jerusalem, where Palestinians have clashed almost daily with Israeli police and where Israel has recently pushed ahead with plans to build another 3,600 settler homes, drawing international condemnation.
"This decision comes as a response to Israeli measures in Jerusalem," he said.
Abbas called for other countries to follow Sweden's lead.
"All countries of the world that are still hesitant to recognise our right to an independent Palestinian state based on 1967 borders, with east Jerusalem as its capital, (should) follow Sweden's lead," his spokesman quoted him as saying.
Sweden is the first EU member state in western Europe to recognise Palestine.

Load more