The All Progressives Congress has called on President Goodluck Jonathan to show better understanding of democracy by immediately restoring the police security details the Inspector General of Police unlawfully withdrew from the Speaker of the Federal House of Representatives, Hon Aminu Tambuwal.
In a statement issued in Abuja on Thursday by its National Publicity Secretary, Alhaji Lai Mohammed, the party described the announcement of the withdrawal of the Speaker's security details by the Inspector General of Police as a usurpation of the role of the Judiciary by the Inspector General of Police, especially bearing in mind that the question of the interpretation of Section 68(1)(g) of the Constitution on which the Inspector General of Police anchored his illegal act is currently before the courts for resolution.
The party said for avoidance of doubt the position including the manner a person becomes the Speaker of the House of Representatives is to be found in the Constitution, and no constitutional provision or legislation says membership of the ruling or dominant party in the House is a pre-requisite.
"Furthermore, as the number four citizen of the Federal Republic of Nigeria the security detail and apparatus attached to the person of the Speaker is not based on his lineage, person and or political leaning. It is on account of the position and the protection required for that position and in Nigeria's best interest.
"This unfortunate use and deployment of Nigeria's security forces in a partisan and political way portends danger and further weakens important institutions of governance and jeopardizes national security. Under President Jonathan, we now have a Police Force that is monitoring and making conclusions with respect to party membership, qualification, of an otherwise elected official. This is unheard of in any decent democracy," the party said.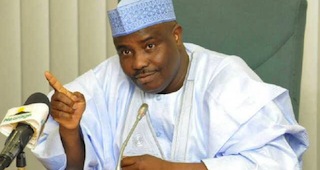 It further noted that "President Jonathan who had been a successive long term and unique beneficiary of our democracy and Constitution is now demonstrating the greatest disregard for the laws that govern and guide us as a people. President Jonathan who is the only individual who benefited from the same Constitution to become a Governor from a Deputy Governor without an election and from a Vice President to President in similar legal circumstances now desecrates the same constitution.
"The All Progressives Congress rejects this challenge to democracy and modern society. We reject President Jonathan's illegality and call for respect and compliance with the law. We reject this meddling in the affairs of the Legislature especially given the resolution of President Jonathan and his close advisers yesterday at their meeting to ask the Deputy Speaker Mr Emeka Ihedioha to unlawfully reconvene the House before the adjourned date.
"May we remind President Goodluck Jonathan that under the House Rules only a resolution by all principal officers of the House and not even the Speaker of the House can reconvene the House before the adjourned date not to talk of the Deputy Speaker.
"Regrettably the priority of President Goodluck Jonathan on the night that Mubi, a town with a population of about two million people in Adamawa state fell to the Boko Haram insurgents, was how to illegally remove the Rt Hon Aminu Tambuwal as the Speaker of the House of Representatives."

Load more