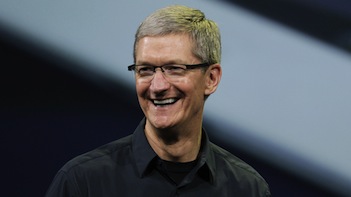 Apple CEO Tim Cook came out as gay Thursday and said that fighting for equality is at the core of his personal and business ethos.
The head of the tech giant said his sexuality has never been a secret at his company, but acknowledging his homosexuality as a public statement about equality was "more important" than his privacy.
"Let me be clear: I'm proud to be gay, and I consider being gay among the greatest gifts God has given me," Cook said in a statement in Bloomberg Businessweek.
"I've had the good fortune to work at a company that loves creativity and innovation and knows it can only flourish when you embrace people's differences. Not everyone is so lucky," he said.
The Apple CEO said coming out was part of his personal fight to stand up for minorities, a value he said his company also embraces.
"Part of social progress is understanding that a person is not defined only by one's sexuality, race, or gender," he said.
"Being gay has given me a deeper understanding of what it means to be in the minority and provided a window into the challenges that people in other minority groups deal with every day."
"We'll continue to fight for our values, and I believe that any CEO of this incredible company, regardless of race, gender, or sexual orientation, would do the same.
"And I will personally continue to advocate for equality for all people until my toes point up."
Cook took over as the head of Apple in 2011 after the death of former CEO Steve Jobs.
He has faced criticism for not maintaining Apple's lustre after the death of Jobs, who was hailed by fans as a visionary.
But the recent frenzy over the big screen iPhone 6 launch had some analysts applauding Apple's comeback as it seeks to carve out its niche in the increasingly popular "phablet" market.
Cook said that being gay was only part of his identity, and described himself as a "an engineer, an uncle, a nature lover, a fitness nut, a son of the South, a sports fanatic, and many other things."
He said he is inspired by civil rights champions Marin Luther King and Robert Kennedy, whose portraits hang in his office.

Load more