Nnamdi Felix/Abuja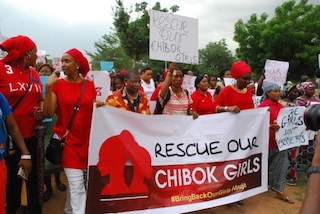 An Abuja High Court has declared as illegal the ban of peaceful rallies by the #BringBackOurgirls group by the former Federal Capital Territory (FCT) Commissioner of Police, Joseph Mbu, now an Assistant Inspector General of Police (AIG) in charge of Zone 7.
In a judgment delivered Thursday, Justice Sunday Aladetoyinbo held that the right to freedom of association and assembly is the bone of any democratic governance and that the police has no right to ban Nigerians from peaceful protest.
The Judge commended the then Inspector General of Police, Mohammed Abubakar for over-turning the ban and stating the position of the law but cautioned the #BringBackOurGirls group to be security conscious in staging peaceful gathering.
The court also dismissed the application by the group seeking N200 million as damages as a result of the ban.
The #BringBackOurgirls group had on June 2, 2014 dragged Mbu to court for allegedly banning protests, rallies and demonstrations over the abducted Chibok secondary school girls.
The then Inspector-General of Police, Mohammed Abubakar however, overturned the ban the following day, saying, "The force has not issued any order banning peaceful assemblies/protests anywhere in Nigeria".
Counsel to the #BringBackOurgirls group, Femi Falana, a senior advocate of Nigeria, had argued that Mbu's ban on peaceful protests constituted an infringement of the rights of his client.
Police lawyer, Mr. Simon Lough, had protested that the court did not have jurisdiction to entertain the matter.

Load more