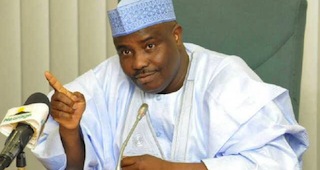 Speaker of the House of Representative, Aminu Tambuwal has insinuated that Nigeria cannot be delivered from the hand of evil if Nigerians do not collectively fight a "certain cabal" that has plunged the country into poverty and backwardness.
Tambuwal made the statement after he was formally presented to members of the All Progressives Congress at its mini convention in Abuja. The Speaker was handed a broom, which is the party emblem and with which they intend to sweep away the ruling, Peoples Democratic Party.
Receiving the broom, the Speaker said: "No power of humans can deliver this country from the evils it has been plunged into by a certain cabal.
"I joined the APC platform for genuine change."
Adding that: "I call on all like-minded Nigerians to join this ship in the quest for a new Nigeria.
"We need unity and solidarity in our ranks and as we move ahead, we will engage Nigerian men and women in the right direction," Tambuwal said.

Load more