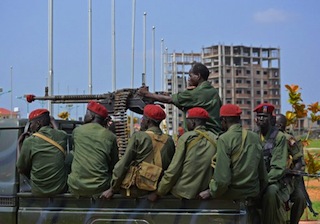 South Sudan's army has repulsed rebel attacks on the key northern oil hub town of Bentiu, the defence minster said Thursday, saying many had been killed or wounded in fierce fighting.
"We have a lot of wounded people we are trying to evacuate from Bentiu," Defence Minister Kuol Manyang told AFP Thursday, adding that the town remained under the command of the army.
"Bentiu is under control, there is calm now," he said.
After skirmishes outside the town earlier this week, rebels on Wednesday attacked the centre, with aid workers nearby reporting heavy machine gunfire and explosions.
The fighting marks an end to a brief lull in hostilities in the country's 10-month-old civil war after the end of the rainy season which made many roads impassable.
The town, state capital of the previously key oil-producing Unity state, has changed hands several times since the war broke out in December 2013, but has been in government hands since May.
When rebels loyal to ousted vice president Riek Machar stormed the town in April, they unleashed two days of ethnic slaughter as they hunted down civilians sheltering in mosques, churches and a hospital, according to the UN.
Thousands of people have been killed and almost two million have been forced from their homes by fighting in South Sudan, including almost 100,000 people who are sheltering in squalid UN peacekeeping bases — including in Bentiu — fearing they will be killed if they leave.
– Fighting 'risks millions of lives' –
The defence minister said he did not have exact numbers of those killed and wounded, and whether they were soldiers or civilians.
"There must be deaths, because that is war," Manyang said.
Both sides in the conflict — Machar's forces and troops loyal to President Salva Kiir — have been accused of war crimes including mass killings, rape, attacks on hospitals and places of worship and recruiting child soldiers.
East African mediators from the regional IGAD bloc — running stalled peace talks in Ethiopia — condemned the fighting.
"The already dire humanitarian situation throughout South Sudan is further imperilled by this violence and risks millions of lives," IGAD said in a statement late Wednesday, warning of the "humanitarian catastrophe induced by this war."
Kiir and his sacked vice-president Machar met earlier this month in Tanzania, shaking hands and accepting mutual responsibility for the war.
It was their first meeting since they signing a ceasefire in August, which like three previous agreements, swiftly collapsed.
The UN have accused both sides of using war rather than talks as a solution, creating a "catastrophic humanitarian situation", in a report last month to the Security Council.
"The parties continue to see military action either as a possible solution to the crisis or a viable negotiating tactic," the UN report added.

Load more