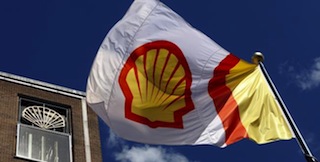 Royal Dutch Shell posted mixed third-quarter earnings on Thursday, as it weathered sliding oil prices but was buoyed by improved capital efficiency and strong project delivery.
Net profits, or earnings after taxation, dropped five per cent to $4.46 billion (3.55 billion euros) in the three months to September, compared with the same part of 2013, the Anglo-Dutch oil giant said in a results statement.
However, key profit on a current cost of supplies basis — which strips out changes to the value of its oil and gas inventories — surged 24 percent to $5.27 billion in the third quarter.
The London-listed energy major also ramped up its quarterly shareholder dividend to 47 cents a share, from 45 cents.
Shell added it was on course to return a total of $30 billion to shareholders via dividends and buybacks in 2014 and 2015.
"The recent decline in oil prices is part of the volatility in our industry," said chief executive Ben van Beurden.
"It underlines the importance of our drive to get a tighter grip on performance management, keep a tight hold on costs and spending, and improve the balance between growth and returns.
"Our results today show that we are delivering on the three priorities I set out at the start of 2014 — better financial performance, enhanced capital efficiency and continued strong project delivery."
The company also announced the appointment of Charles Holliday as its new chairman. He will take over from Jorma Ollila next year.

Load more