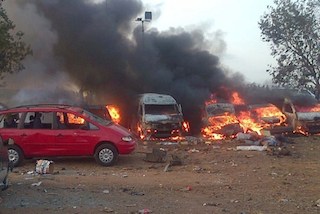 A triple bombing at a bus station during Friday morning rush hour in north Nigeria killed at least eight people and wounded 34 others, rescue workers told AFP.
A local rescue official who requested anonymity and was at the scene in Gombe state's capital said eight bodies had been brought to one area hospital.
The spokesman for the National Emergency Management Agency, Manzo Ezekiel, told AFP his staff had confirmed five dead but noted the toll could be higher and said that at least 34 people were wounded in the attack.

Load more