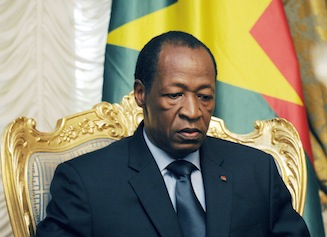 An army official claimed on Friday that Burkina Faso's embattled President Blaise Compaore had been ousted, prompting an outburst of cheers from protesters demanding his resignation.
"As of today, Compaore is no longer in power," Colonel Boureima Farta told tens of thousands of protesters who had gathered in front of the army headquarters.
Farta spoke to the crowd shortly after noon, hoisted on the shoulders of other officers.
Compaore, who has been in power for 27 years, on Thursday had rejected calls to step down following angry demonstrations over plans to amend the constitution to allow him to extend his rule.
He said he would no longer seek another term but would stay in power through 2015 under a transitional government.

Load more