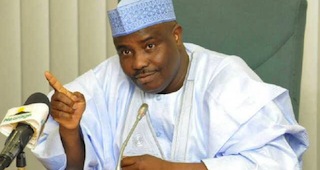 Some lawyers in Lagos on Friday faulted the withdrawal of the security aides of the Speaker of the House of Representatives, Aminu Tambuwal.
NAN reports that the officers were withdrawn on Thursday, on the orders of the Acting Inspector-General of Police, Mr Sulaiman Abba.
The lawyers told NAN that the withdrawal of the speaker's security aides following his recent defection to the All Progressives Congress (APC) posed a danger to Nigeria's democracy.
Mr Yinka Farounbi, the Chairman, Nigerian Bar Association (NBA), Ikeja branch, said Abba's directive was an abuse of power.
Farounbi said the police authorities misinterpreted Section 68 (1) (g) of the 1999 Constitution, as amended, to back the action.
"There is no crime in defecting to another party and the IGP is not the person responsible for interpreting what the constitution says on any issue. That is the responsibility of the court," he added.
Also, Mr Gbenga Ojo, of the Faculty of Law, Lagos State University (LASU), Ojo, told NAN that the acting IGP had no power to withdraw the officers.
He said Tambuwal had a moral duty to vacate the seat following his defection to the APC.
According to him, it is, however, the responsibility of the court to determine whether or not he should remain as speaker and not the duty of the police.
Another lawyer, Mr Clement Onwuewunor, said Tambuwal was entitled to protection, as long as he remains the Speaker of the House of Representatives.
Onwuewunor said: "The deployment of the security personnel is not because of a particular political party but because he is the speaker.
"His defection from the Peoples Democratic Party (PDP), therefore, has nothing to do with the office of the speaker."
He, therefore, urged the police to maintain neutrality at all times and uphold their constitutional duty of protecting the lives of all Nigerians, irrespective of political affiliations.

Load more