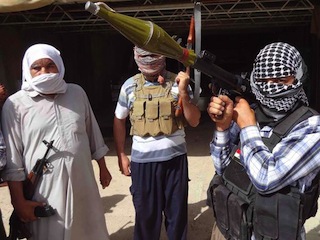 A US man pleaded guilty Thursday to trying to help the Islamic State jihadist group and now faces 15 years in prison and a $250,000 fine, officials said.
Donald Ray Morgan, 44, was arrested in early August at JFK International Airport in New York on an outstanding firearms charge, and investigators looked into his recent travels.
"He traveled overseas with intentions to join the violent terrorist group, ISIL (IS) in Syria," FBI special agent in charge John Strong said in a statement.
"American citizens who support terrorist organizations must be held accountable for their actions."
Morgan pleaded guilty to attempting to provide material support to a designated foreign terrorist organization and possession of a firearm by a felon.
According to court documents, Morgan knowingly tried to provide support — including his own services — between January and August to the Islamic State group.
On at least one occasion Morgan, from North Carolina, unsuccessfully tried to travel from Lebanon to Syria to join IS fighters, prosecutors said.
Morgan used social media and an interview with NBC News to express his support for the jihadists and for violent terrorist activities.
In a Twitter message seen by the FBI at the end of July, he allegedly wrote: "Killing our enemies and beheadings are justified."
In his interview with NBC, filmed in Beirut and broadcast September 3, Morgan said he'd bought a ticket "with the intent of entering Syria (and) either joining up with food and medical aid convoys or directly with Islamic State."
"Today's plea is a sad reminder that those who wish to aid foreign terrorist organizations can come from any community and from any background," US Attorney Ripley Rand said.
Morgan was initially arrested on August 2, 2014, at JFK airport on a federal indictment for possession of a firearm by a felon.
The firearm offense dates back to January 2012 and carries a potential 10-year prison term.
Sentencing is set for February 18, 2015.

Load more