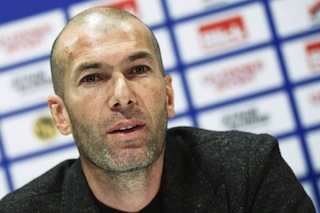 Zinedine Zidane has been cleared to continue coaching Real Madrid's reserve side while the Spanish Court of Arbitration for Sport (TAD) considers his club's appeal against a three-month ban, Real said Friday.
On Monday, Zidane was banned for three months for not having the necessary qualifications to coach in Spain.
Real appealed the decision and now the France legend, the two-goal hero of their World Cup final victory over Brazil on home soil in 1998, has been allowed to continue in his role.
Zidane's assistant Santiago Sanchez, who was also sanctioned by the Spanish Federation (RFEF), has been likewise cleared to continue his duties.
"The TAD acquiesced to the club's request for a provisional suspension (of the ban) which allows… the coaches of Real Madrid Castilla, Santiago Sanchez and Zinedine Zidane, to perform their professional activities until such time as a decision is taken on Real Madrid's appeal against the decision taken by the (RFEF) appeal committee," said Real in a statement.
Real initially appealed to the Spanish Federation's appeal committee, according to local press, but when that was rejected, the 10-time European champions turned to the TAD.
Real vehemently deny that Zidane does not have the necessary coaching qualification to coach their reserve team, although he needs a UEFA 'A' licence level three badge to do so and he only holds a level two.
Spanish coaching school Cenafe submitted a complaint to the Spanish Federation, alledging that Real were using Sanchez's name on teamsheets as coach to get around the regulations preventing Zidane from coaching.
But Real claimed that Zidane "has been authorised by the French Football Federation to work as a head coach in the category Real Madrid Castilla currently find themselves in".
Although Zidane has yet to complete the full quota of practice hours with the French Football Federation (FFF) to gain promotion to level three, the FFF supported Real's case, saying Tuesday that "UEFA regulations allow a coach who is being trained to exercise his job".

Load more