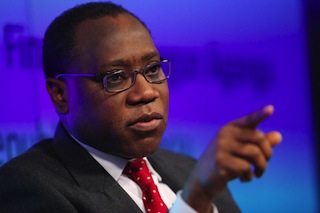 The Minister of Industry, Trade and Investment, Dr Olusegun Aganga, on Saturday urged Nigerians to patronise local products to boost rapid industrialisation.
Aganga, who gave the advice in an interview with NAN in Ota, stressed the need for people to change their mentality about made in Nigeria products.
"The more Nigerians purchased imported goods, the more they are creating poverty because this would increase the nation's unemployment rate."
Aganga noted that when Nigerians buy locally made products, they were indirectly creating employment which is good for the economy.
He said the Federal Government had been promoting local content especially in the automobile industry.
Aganga said government was working on how average Nigerians could benefit from inclusive growth by focusing on labour intensive sector.
He added that government had also intensified efforts to stimulate the agricultural sector since it was the major employer of labour.
"We are making the Small and Medium Enterprises (SME) to be active by providing single digit interest rate to create job for an average Nigerian," he said.
Aganga said that the government had built strong institutions to tackle corruption and to attract more direct foreign investment into the country.
He stressed that the number of industries coming into the country had increased in spite of various challenges.
Aganga said Nigeria, being the largest economy in African, was attracting more investors into the country to do business.

Load more