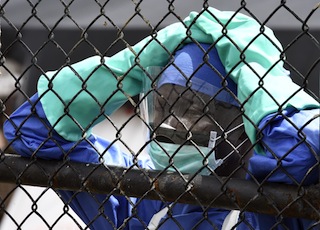 Guinea authorities buried a Cuban Saturday who died of malaria while working in the country to help battle the killer Ebola virus.
Jorge Juan Guerra Rodriguez, 60, was an administrator with a team of Cuban medical personnel sent to west Africa in October to stem the spread of the virus.
He died of cerebral malaria on Sunday, the Guinean government and Cuban officials said.
His funeral in the capital Conakry was attended by work colleagues and aid workers, as well as Cuban and Guinean officials, according to an AFP journalist at the ceremony.
"We will always remember him and we pray for the repose of his soul because he died on the soil of Cuba's friend, Guinea," government spokesman Albert Damantang Camara said.
Cuba's health ministry says Rodriguez had not been in contact with Ebola patients, but he was given two tests for Ebola, both of which were negative.
He was initially treated for diarrhoea, a symptom of both malaria and Ebola, before his health rapidly deteriorated and he suffered multiple organ failure.
The economist, from Sancti Spiritus in central Cuba, travelled to Guinea on October 6 and began showing signs of illness on October 22.
Cuba has sent around 250 doctors and nurses to Ebola-stricken west Africa — some 165 of them to Sierra Leone — help combat the spread of Ebola.
The virus has already killed almost 5,000 people, mostly in Guinea, Sierra Leone and Liberia.
Malaria kills hundreds of thousands of people around the world each year, mainly children in sub-Saharan Africa.
Both ailments have similar symptoms, including fever, aches, vomiting and diarrhoea. While Ebola is passed by contact with bodily fluids, malaria is transmitted by mosquitoes.
Cuba's response to the Ebola epidemic has won plaudits from humanitarian workers who say the international community's reaction has been lacking.
Eventually, Cuba plans to deploy more than 450 medical personnel to west Africa.

Load more