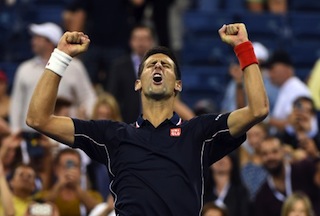 World number one Novak Djokovic won his 600th ATP match on Sunday as he defeated Canadian seventh seed Milos Raonic 6-2, 6-3 to win the Paris Masters for the second straight year.
The 27-year-old Serb also extended his advantage over Roger Federer in the race for the year-ending number one spot while Raonic could take consolation that his run to the final booked his place at the World Tour Finals in London.
Djokovic comfortably defended the crown he won last year, when he defeated David Ferrer, and where he recorded his maiden title in the French capital in 2009.
The Belgrade native also extends his indoor winning streak to 27 matches with his last defeat back in Paris two years ago.
"This week has been incredible and my first tournament since becoming a father 10 days ago so I dedicate this victory to my wife and son," said Djokovic, whose wife Jelena gave birth to baby boy Stefan on the eve of the Paris tournament.
"Congratulations to Milos, I'm very happy for him that he qualified for London but today I played the best tennis I've played all week.
"It's not easy against a player with such a big serve but I played an exceptional match and I'm very happy to win this trophy. Like I said, it's my first tournament since becoming a dad and it's been a great pleasure to play here." added Djokovic.
Djokovic paved the way to win the first set early on as he raced into a 3-0 lead and never looked back.
Raonic appeared nervous and edgy but had chances to break the Djokovic serve at 0-30 when 3-1 down and again at 4-2 down when he squandered three break points.
An injury time-out taken by the seven-time Grand Slam winner showed no signs of slowing down the champion and he again broke early in the second set to put a stranglehold on the match at 3-0 up in the second set.
The Montenegro-born Raonic, who was in his second Masters final after losing in 2013 against Rafael Nadal in Montreal, saw his big serve tamed by Djokovic and he was never able to tighten up the contest.
"It's been an incredible week for me," said Raonic. "Congratulations to Novak for his win and also the new addition to his family, now I'm going to focus on London and I'm going to fight hard over there," added the Canadian.
Djokovic's 600th win puts him fifth on the all-time list of active players behind leader Federer on 991, Nadal on 706, Leyton Hewitt who rests on 611 and David Ferrer who has 602 ATP victories.
The Wimbledon champion also extended his points advantage over Federer in the battle for number one to 1,310 points with 1,500 on offer for an unbeaten run to the World Tour Finals title.
However 17-time Grand Slam champion Federer can also pick up points when he plays the Davis Cup final for Switzerland against France in Lille beginning on November 21.
Raonic settles for a place in London, his first qualification for the season-ending finale and a first for a Canadian male player.
The other seven qualifiers are Djokovic, Federer, Stan Wawrinka, Andy Murray, Kei Nishikori, Tomas Berdych and US Open champion Marin Cilic.

Load more