Eromosele Ebhomele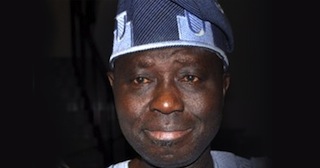 Nigeria's minister of Police Affairs, Alhaji Abdul Jelili Adesiyan, has said that the ongoing reform in the country's Police Force has begun to yield positive results in the way and manner the personnel attend to and handle issues related to criminal activities.
The minister, who was fielding questions from the journalists in his office in Abuja at the weekend, said the police were better informed nowadays compared to what was obtainable in the past.
He added that with the purchase of new equipment and training and re-training of personnel, the menace of crime and insurgency would soon be totally checkmated.
He said: "as part of the reform in the police, today, we have Police University in Wudil, Kano State, admitting people through Unified Tertiary Matriculation Examination (UTME) to pursue different courses. This is to enable our police officers to have at least minimum of first degree and this will bring out best among them and they will be able to compete favourably with their counterparts all over the world."
Adesiyan also explained that many countries have signified interest to partner with Nigeria through Public Private Partnership (PPP) in the area of security, adding that he would be leading a delegate to UK this week to seek more knowledge about the security education.
"I am very happy that many countries are ready to partner with us and before the end of this week, I would be leading a delegate to UK for cross fertilization of ideas so as to have good knowledge about security.
"We are working towards achieving a situation whereby if you see a Nigerian police, it will be like you see a policeman in the New York," he added.
The minister, therefore, urged the members of the public to cooperate with the police in order to achieve the anticipated result of effective protection of lives and property of the entire citizenry, saying that police in USA or UK were effective in their operation because the citizens were readily available to give first hand information about the happenings in their various domains which according to him, makes it easier for the police to combat criminal activities.
Asked why huge amount of money was set aside by the federal government for reforming Nigeria Police, Adesiyan reiterated that the reform is a project that must be taken with utmost seriousness, and that the President Goodluck Jonathan was futuristic that is why he ensured that no stone must be left unturned.
According to him, "since terrorism is not peculiar to Nigeria alone, everybody should work tirelessly to combat insurgency any political or religious sentiment.
"As far as I am concerned, the money earmarked may not be enough contrary to the belief that it was too much because the personnel must be adequately equipped to fight terrorism and other security challenges."

Load more