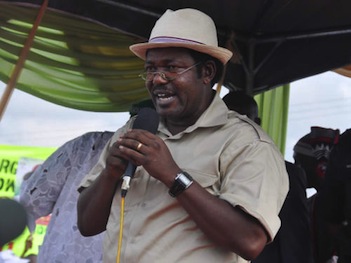 Engineer Patrick Ekpotu, former deputy governor of Akwa Ibom state and a front runner in the 2015 governorship race under the platform of the ruling Peoples Democratic Party (PDP), has promised to make the oil-rich state more prosperous by making the state less dependent on crude oil revenue from federal allocation.
The governorship aspirant, who served as deputy governor in the state between 2007 and 2009, in the first tenure of the current governor of the state, Godswill Akpabio, made this disclosure while speaking on why he wants to succeed his former boss as governor of Akwa Ibom state.
According to the chemical engineer turned politician, if given the opportunity to pilot the affairs of the state, his government will put in place a robust agro-economy that will dwarf the current crude oil dependent system.
He explains that his government will implement a specially designed agricultural programme that will generate huge revenue that will compete favorably with the lucrative crude oil revenue and remarkably improve our Internally Generated Revenue (IGR). " We have to among other things, invest in palm oil production which is as lucrative as crude oil but neglected in the past. I can assure you that the state will be making an average of about N5 billion per month in the first three years after take off. And N20 billion a month at optimal operation.
" I will establish Ibom Agro and Allied Industries Ltd (IAAI)' within three months of coming into office to drive the initiative on a competitive basis and not as a usual government outfit. Apart from the wealth creation potential of this initiative, it will also boost job creation in the state."
Ekpotu also stated that if elected as governor, his "government will work hard to erase the divisive lines of ethnic and political dichotomies in the state, by engendering a robust inclusiveness that will bring every interest group into a unified front that will focus only on the development and progress of Akwa Ibom state and Akwa Ibom land.
"My government shall as a matter of urgency pursue vigorous and purpose-driven youth empowerment programme through specially designed skill acquisition programme that will offer training in diverse fields that will add value to the lives of the beneficiaries such that they will become self- sufficient and essentially become job providers rather than burden to the society."
Akwa Ibom, under his leadership,he said,shall take conscious steps to ensure a social re-engineering of the state that will be anchored on the principles of equity, justice and fairness. "Our administration shall also promote and reward merit, hard-work, creativity and productivity. This philosophy will essentially give a new focus and a fresh breath to our collective value system that yearns for a practical and visible reorientation"
In the area of health, the former deputy governor stated that since majority of Akwa Ibom people live in the rural areas, his government "shall focus on the Primary Healthcare sector in the state by bringing effective health services to the rural parts of the state, where common diseases such as malaria, cholera and even common cold, remain a challenge to the people. And also ensure that portable water is made available in the local areas in order to promote good hygiene and prevent diseases."
Should his aspiration become a reality, Ekpotu, who has served Akwa Ibom in the past as Commissioner for Information Culture and Ethical Orientation in the administration of Obong Victor Attah, affirmed that Akwa Ibom state government under his watch, will be "a government of service to the people. And that which will be firm and uncompromising in discharging its duties. We will be unflinching in ensuring that the rule of law and true democratic principles are upheld. Above all, we will run a prudent, transparent and just in managing the commonwealth of the state." He stated.
Engineer Ekpotu hails from Eket Senatorial District where the National Working Committee (NWC) of his party, PDP has endorsed to produce the next governor of Akwa Ibom state.

Load more