Governor Rabi'u Musa Kwankwaso of Kano state and Presidential aspirant on the platform of the All Progressives Congress, APC, spoke to journalists in Kano on his ambition to rule Nigeria and declared that it was high time President Goodluck Ebele Jonathan started dusting his tables ahead of the 2015 elections. MADUABUCHI NMERIBEH recorded the conversation.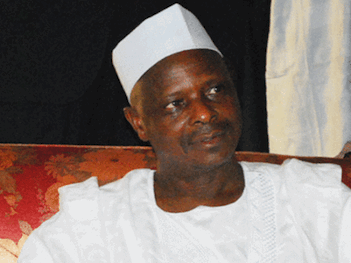 Will you step down for General Muhammadu Buhari. Secondly, do you have the plans to anoint your Deputy, Dr. Umar Ganduje as your successor?
On the issue of Dr. Ganduje, let me just say that when the time comes, we will see how that can be handled. Then on the issue of four of us—my humble self; our leader, General Buhari; and of course, the other leader, Atiku Abubakar and my friend, Sam Nda-Isaiah, I believe all these people belong to APC and all of us are communicating. For example, I have been together with Atiku for over two decades under the leadership of the late Alhaji Shehu Musa Yar'Adua and to SDP, of course, under him where I contested elections. We were together during the constitutional conference, to PDP and now to APC—we have been together and I always consider him as a senior brother. So also for Muhammadu Buhari who I always respect, even though we have never been in the same party until this APC; and we will continue to communicate among ourselves—until at the appropriate time, as a family, we will agree on what to do, whether to leave it for one person, or two persons or we go for primaries. But whichever way, I want to assure you that anyone of the four of us that eventually emerges; we will rally round him to ensure that the party succeeds because I believe that the success of APC is not only for the party members, but also the success of this country. We have seen what has been happening in this country for over two years, insecurity has taken over—every day you listen to radio, television or local papers or social media, the issue has always been the same—people being killed, people being maimed and people being displaced. Now, we have about four million internally displaced people, we have thousands in Cameroon, thousands in Chad and thousands in Niger Republic—all these are Nigerians and the leadership in this country doesn't even talk about it. I am sure you remember that recently we sent seven trucks to Niger—that is two trucks of rice and five trucks of maize; and five trucks each to Borno, Yobe and now we are sending some to Adamawa and other places where you have so many people who are being displaced from their homes as refuges. I want to appeal to the Federal Government not to keep its eyes away from Nigerians; and not only Federal Government but the people of this country to remember that these are our brothers and sisters who have found themselves in this mess. They didn't bargain for it and I am sure many of them voted for this government in 2011; and now, this is what they have gotten from them—insecurity! What we are saying to people of this country that it doesn't matter who started this crisis or who is executing it, what is important is that this government must stop it. People are sick and tired of these killings and destruction of properties. The primary responsibility of any government, either in Nigeria or elsewhere is to protect lives and properties; and this government is far from keeping this responsibility.
The defection of Speaker of House of Representatives, Aminu Tambuwal has created rumbles within the polity up to the extent that his security details were withdrawn by the alleged prompting of the presidency. How do you see this playing out?
Well I think some of these our friends in Abuja are furious; but anytime they have defection from any other party to their party, they celebrate it. But anytime we have defection from their party to any party, they will paint it as a problem. I don't think double standard is good for them, I don't think it is good for democracy or for this country. We have seen members of National Assembly and state Assemblies, we have seen so many people defecting from parties, including APC to their party, but all what we see is them celebrating with Champagne even if it is during Ramadan; and when any is defecting from their party, they see it as something abnormal. I think they have seen nothing yet, it is just a matter of time, God's willing, Nigerians will kick them out from where ever they are today to their villages and I think they have to take note of that; and I don't know why me and Jonathan collected our forms the same day— the indication is maybe, me and him are going to slug it out in 2015; and once that happens, I am sure that you know the answer—that he is going to lose. He will lose completely because I don't see anybody in this country, apart from the hawks in Abuja and of course, these contractors and those who are stealing crude oil and oil money—I think these are the once that will be happy to vote for him again so that they can continue milking the economy of this country. Otherwise, the masses, the Talakwas of Kano, of Enugu, Zamfara, including Bayelsa will be very happy to have a change—a change that will guarantee the security of lives and properties of Nigerians, no matter where they live, no matter their religion or ethnicity—I think those are going to be the issues of 2015—the issues of security, the issues of economy—not minding the fabricated figures that we have seen coming from Abuja that all is well. All cannot be well where you have crisis, where you have insecurity, where people are being scared from bringing their investment into the country—all these cannot help the economy anywhere in the world. So we have all these issues on the ground and certainly, sentiments will not and can never work in 2015. All antics of dividing the country based on religion, based on North and South, based on ethnicity and class will certainly fail in 2015. And I want to advice INEC because somebody was telling me that there were suspected tricks of INEC using computers to help a particular political party; and this means in 2015, we will keep our eyes open to make sure every single vote counts and that is what is going to happen in 2015.
If eventually you are elected in 2015, how differently are you going to approach the issue of insecurity in the country?
First and foremost, as a former Minister of Defence who has been associated with the military and the Air Force and Navy, I feel terribly concerned with what is happening with Nigerian military today. Nigerian military must be supported by all Nigerians. Nigerian military has done us proud over the years, both within the country and across Africa. This was a military that was being respected by its friends and feared by its enemies; but unfortunately, over time, things are beginning to change. And that glory must be restored; we should have a powerful military in this country. No single country in the world that can be proud of itself if it doesn't have strong military. Any country without strong Army, strong Air Force, strong Navy where applicable, that country is a failed country. Therefore, our administration can never ever take the issue of the Nigeria Armed Forces, the Police, the SSS and all other paramilitary—we won't take them lightly. In my opinion, what we are lacking today is the political will. The political will to provide the necessary ammunitions, kits, welfare and of course training and retraining—I think these are the issues; otherwise we have seen the performance of our military even when I was the Minister of Defence, we have seen what they did in Dafur, Sudan; we have seen their performance practically in Sierra Leon, in Liberia. I can assure you that once you have strong and committed leadership in this country; things will certainly take their shape, not only in terms of security, even in the economy. We have the issue of unemployment of our youths, both men and women. As we are sitting here, schools are being closed in Adamawa, in Yobe and Borno states; and the battle line is moving, it is not static. That is the worrying aspect of it and that is why I believe this country needs change. Change by 2015 and we must have to work together and bring the change. Those people in Abuja want to remain there but they know they are not performing, we only see them performing on the electrical poles along the streets of Abuja, telling us funny stories and people are laughing at them. I think they need to know that people are laughing at them; you should tell them when you see them that people are not only laughing, but are very angry over their leadership. You know, they don't know what I happening on the ground, they are there in Abuja in the air—they don't know the realities in the ground—the realities are that people are not eating well, people have no job, people are afraid of their lives, some have already been killed and the killings continues. This is what is happening on the ground, not what they write on their posters, bill boards, and their surplus amount of money to take over NTA and even their privately owned TV stations— only God knows how much they are spending. I was asking my friends, who are the sponsors of that TAN (Transformation Ambassadors of Nigeria). The TAN before now, nobody had N1 million among them; but now see what they are sponsoring. It must come from the Villa!
If you are eventually elected president in 2015, what will your foreign policy to neighbouring countries look like with a view to fighting poverty and boosting the economy of border communities?
You see, some years before now, we all know that our neighbouring countries depended on Nigeria for protection and support, for their economy. The reverse is the case now, because we go to them cap on hands, begging them to help us. Our foreign policy has now come down from grace to grass. That is where we are. Those countries who were respecting us are now finding it difficult to believe what is happening to Nigeria. Countries like Benin Republic, Chad, Niger, and Cameroon were before now heavily dependent on Nigeria in terms of economy, in terms of Defence and so on and so forth. Now, you have seen that our leadership is going round begging them, kneeling down to them to help us. I think these are the things that must be reversed. Nigeria must take its rightful position in the comity of nations. Nigeria and Nigerians must take the leadership that we deserve. Of course, this should be the main focus of our government—to stabilize the security of the country, its economy, tackle the issue of education, health, agriculture. Now, we have seen this country surviving on one commodity—oil! We have to look at renewable energy, agriculture, education. We have to make sure that each and every Nigerian is supported by the government to realize his or her potentials; and these individual potentials put together is what will remedy this country. I you look at our educational policy here in Kano, you can understand what I am telling you. Before now, how many people are thinking of going to any university out of this country? By now, we have over 2000 people studying abroad, by the end of the year we would have sent another 500 people out to study mostly post graduate studies, Masters and Phd. These guys by the grace of God will realize their potentials, and put them together and otherwise push Kano state forward and by extension, make Nigeria great. Look at our students in the private universities. We are not even talking about those in public schools and Federal Universities. We have free education policy from primary, secondary to tertiary level, now we have a law banning the old system of Almajiri where young men and women going round the city of Kano and other parts of the state to beg for food; all these things we are doing, in the near future, we will live to harvest the positive outcome.
On the state of the nation's economy, you said some people are in Abuja fabricating figures. Are you implying that Nigeria is broke? Second, we learnt that the Emir of Kano, Alhaji Sanusi Muhammad 11 paid a reconciliatory visit to President Goodluck Jonathan, are you aware of this?
You see, I don't know why you are asking me whether this country is broke or not, because we are all Nigerians. Now, I throw the question back at you: are you happy with the economy? I don't you are because except very few of them, I don't think anybody is happy with economy. Look at the private jets at the airports in Lagos and Abuja that always remind us that we are very rich but I don't the jets are owned by people from my village, they are owned by them. So, they are telling us their private economy—how they transformed themselves from where they were to where they are today. To them, that is their economy. On the issue of the Emir—the Emir told me he was going to Abuja; and of course, as usual, I gave him the necessary approvals to go; and when he came, he thought he should come and brief me and of course discuss other state issues (when I say state, I mean Kano). And that was what happened, I didn't invite him, he booked an appointment to come and talk to me; and I am sure he will continue to come and talk to me, not minding how and why he there. The Emir of Kano is the Emir of Kano. I am the governor of Kano.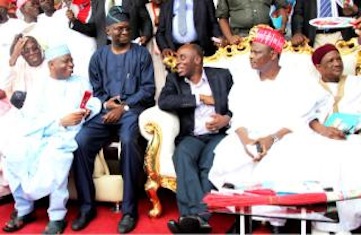 We will like to know whether you are happy or not happy over the alleged reconciliation of the Emir with President Jonathan?
You see, I will be very happy if President Jonathan will every day invite Kano people to reconcile. That will be a good story for me and I am sure it will be a good story for them. We don't even know much about the issues to be reconciled, but it is good that they want to reconcile; and I hope they will also invite me and Kano people to go and reconcile with him also; because we must be very angry for one thing or the other. We want reconciliation and we will continue to encourage reconciliation. If we didn't want him (Emir) to go, we would have told him that; but you should not worry yourself because the Emir is an employee of the government.
Are you saying that all is well between you and the Presidency?
Of course, all is well as long as he starts dusting his table before 2015. Yes. All is very well.
If Jonathan invites you for reconciliation, will you make yourself available? Second, recently, some people went about town spitting fire that should Jonathan win election in 2015, there will be bloodshed, what is your take on this?
What many people don't understand about democracy is that we have so many people in this country with different background, with different understanding of things, and you see, this is the first time that we have this democracy for a long time like this. Before now, within a period of two years, somebody will come and truncate it. And now, we are having real democracy where people are coming out to say their own opinion—and that is part of democracy. If you open your radio today in Kano, you hear people making all sorts of allegations against me, some against other people. As long as that doesn't cross the line drawn against the law, Ii don't think, anybody should worry because it is just an opinion. But the fact remains that we will continue to pray for this country. Bloodshed is not good for anybody; either governor or an Imam, Ulama, camera men—it is not good for them; it is not good for anybody. So, we should always pray for the good of the people of Nigeria, the good of the people of Kano state.
Some people from the Niger-Delta view your opinion on President Goodluck Jonathan very critical. If eventually you get the APC ticket, how are you going to sell your candidature in that area?
I don't know, some of you are press men but you lack the real knowledge of South-South and other places. I don't think there are no problems in the South-South. I don't think it is only in the North that you have security problem. They are so many people from the South; that is South-East, South-West, South-South and they are living in Kano and they call Kano their home. Just recently, I met somebody at the airport. I asked him where he was going and he said he was going home (he is an Igbo man). I was surprised I later met him inside aircraft en route Kano and I asked him again, and he said he was going home to Kano! And I said that is what I wanted to hear from you, I am so happy that you are calling Kano your home. And we have all stories of many of them living here in Kano. They go to Abuja for business, they go to the East for business and they come back here; because in spite of our security challenges here, here is still safer—they can't try to go and stay where they will kidnap or steal you! Some will come and rob you or shoot you in the house. So, people thought poverty is only here in the North, but a poor here is as bad as a poor man in Bayelsa state; despite that their business men are flying to South-Africa and other places, yet their people are terribly poor. So, it is not like the whole of South-South, or South-East or South-West are supporting a particular candidate, no! So, don't bring any quarrel issue between us and the good people of South-South who want better leadership. People in my village don't care whether it is a Christian or Muslim who is a leader, who is the president. In many cases, we always give an example of what happened in the past so that somebody can understand our antecedents, you remember in 1993 when we had election between Abiola and Bashir Tofa. You know I come from the same polling booth with Bashir Tofa in Gandu Albasa, so why didn't he win there? He didn't win in the ward, he didn't win in the local government, he didn't win in the state! Abiola from Ogun won. So it was in 1999, Abubakar Rimi from Kano, our leader was contesting, he got close to zero delegates from Kano; while Obasanjo, a Christian from the South, got Kano delegates and won the elections here in Kano. So, politics here doesn't rely or go for sentiments, we are looking for the best, once we identify the best man, whether he is an Igbo or Yoruba or Tiv or any tribe, we will vote for him. But in any case, if you look at history, you will know, this part of the country has always been very friendly with the South-South. It is only these group of people who came and stole everything. We are only lucky that we have people like Rotimi Amaechi, Adams Oshiomhole and other leaders that are bringing us together again; while the godfathers there, people like Edwin Clark and so on—people who should know better—you see, I think they say he is 97, before now, when his memory was good, I think he was a good man. Now, he is fighting, destroying, but we will always forgive him because we know when we are close to 100 years, probably, our brains will go on reverse.
Culled from thenewsnigeria.com.ng

Load more